Campaign is subject of a new documentary screening at the Western Front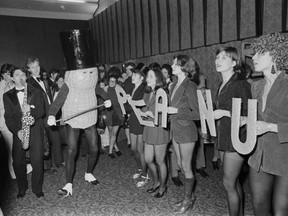 Vancouver civic election at TEAM headquarters at the Bayshore. Mr. Peanut (aka artist Vincent Trasov) and the Peanettes.
PNG
The front page of the Oct. 30,1974 edition of The Vancouver Sun was filled with the serious stories of the day: B.C. Premier Dave Barrett fighting with MPs in Ottawa, 32 people dying in a plane crash in the Arctic, former U.S. president Richard Nixon almost dying from shock and internal bleeding following surgery.
But the main photo was something completely different: a picture of a man in a peanut costume filing nomination papers to run for mayor of Vancouver.
Start your day with a roundup of B.C.-focused news and opinion delivered straight to your inbox at 7 a.m., Monday to Friday.
By clicking on the sign up button you consent to receive the above newsletter from Postmedia Network Inc. You may unsubscribe any time by clicking on the unsubscribe link at the bottom of our emails. Postmedia Network Inc. | 365 Bloor Street East, Toronto, Ontario, M4W 3L4 | 416-383-2300
Thanks for signing up!
A welcome email is on its way. If you don't see it, please check your junk folder.
The next issue of Sunrise presented by Vancouver Sun will soon be in your inbox.
"Late entry in mayoralty race declined comment," read the caption under the photo. "But a supporter said he would be Peanut Party candidate because 'People are used to electing nuts.'"
Mr. Peanut wound up getting 2,685 votes in the 1974 election, which incumbent mayor Art Phillips won in a landslide. But he captured the imagination of the media and the masses, injecting some fun into a yawner of a campaign.
That said, there were some serious messages in his Peanut Economic Platform (PEP) and Peanut Urban Platform (PUP).
"End the Edifice Complex, feeble erections and bulldozer mentality in Vancouver," said his platform. "Run the city as a place to live, not as a profit-making business."
The NPA's mayoral candidate, George Puil, was not amused, accusing Mr. Peanut of making "a jest of democracy."
Mr. Peanut didn't reply — in fact, he didn't speak a word throughout the campaign. But his campaign manager, John Mitchell, said Mr. Peanut had been "saddened" during the campaign after seeing his rivals "borrow ideas, steal platforms, and use other people."
"It's called plagiarism in the art world," said Mitchell. "In politics, it's called reality."
Mr. Peanut was the nom-de-plume of artist Vincent Trasov, one of the co-founders of the legendary experimental art space known as the Western Front.
"I made the costume in 1970 from papier-mâché," said the 75-year-old Trasov via email recently from Berlin, where he spends part of the year.
"I was interested in exploring anthropomorphism, identity change, performance and contemporary mythology. I was working at Intermediary at the time, on an animated film of Mr. Peanut tap dancing.
"It was easier for me to make a costume and be animated in the costume than go through the laborious procedure of making the drawings. Once in the costume, I assumed the identity of Mr. Peanut. Before long, people were calling me Mr. Peanut."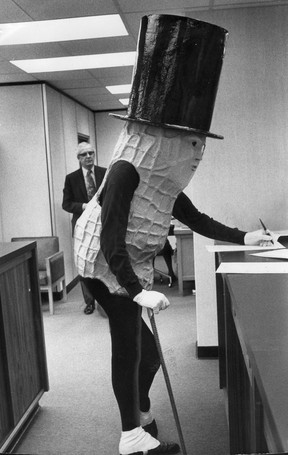 Peanut Party candidate Mr. Peanut, aka artist Vincent Trasov. Mr. Peanut shelled out a $200 deposit and filed nomination papers at City Hall in Vancouver. A Mr. Peanut supporter said that, 'People are used to electing nuts.' October 30, 1974.

Photo by Brian Kent

/

Vancouver Sun
Mitchell came up with the idea of Mr. Peanut running for mayor. But it wasn't a regular political campaign — it was performance art, with the media coverage as part of the art.
"It was a 20-day performance," said Trasov, who also lives in Vancouver and Brentwood Bay. "The platform of the Peanut Party was P for performance, E for Elegance, A for art, N for nonsense, U for uniqueness and T for talent."
The letters were carried during campaign appearances by the Peanettes, a chorus line of six elegantly clad female artists who accompanied Mr. Peanut while he did a tap dance in his top hat and spiffy spats.
Filmmaker Andrew Muir came across some footage of the Mr. Peanut campaign while he was working on a documentary series.
"Believe it or not, I had never heard of him," said Muir. "I saw all the news coverage and thought, 'How is it that I've never heard of this?' And I thought it should be a documentary, that people need to know."
So he made one with his friend, cinematographer Greg Bartels. Peanut For Mayor will make its world debut at the Western Front at 8 p.m. on municipal election night, Oct. 15, at the Western Front, 303 East 8th Ave.
Seating is limited, and admission is by donation at https://www.eventbrite.ca/e/peanut-for-mayor-tickets-421671369417.
The half-hour film is as funny and insightful as the campaign. Modern day commentary by Trasov and fellow artists Hank Bull, Michael Morris and Eric Metcalfe puts things in context, and there is some wonderful vintage footage, such as Mr. Peanut and the Peanettes spontaneously taking over BCTV's election night coverage in 1974 by dancing onto the stage. You could call it a "Busby Berkeley goes to Burnaby" moment.
"We may try and shop it around the festival circuit and see what it does," said Muir. "But the screening at the Western Front is really the most important thing for us. That's the culmination of the project for us."
jmackie@postmedia.com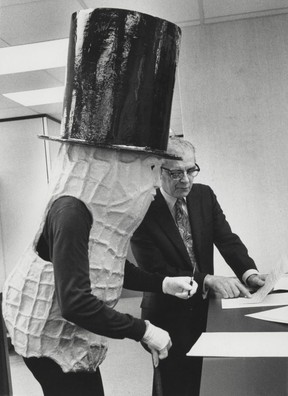 Mr. Peanut (Vincent Trasov) signs the nomination papers to run for the mayor of Vancouver, Oct. 30, 1974.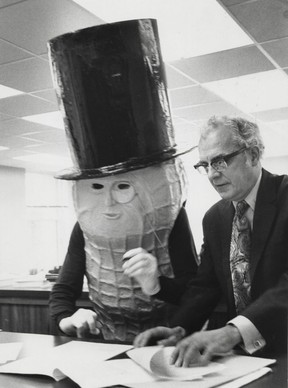 Mr. Peanut (Vincent Trasov) signs the nomination papers to run for the mayor of Vancouver, Oct. 30, 1974.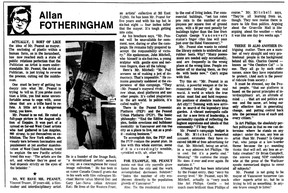 Columnist Allan Fotheringham on Mr. Peanut in the Nov. 19, 1974 Vancouver Sun.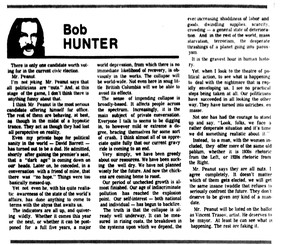 Columnist Bob Hunter on Mr. Peanut in the Nov. 18, 1974 Vancouver Sun. Hunter left the Sun to become one of the founders of Greenpeace.

Mr. Peanut's platform in the 1974 Vancouver election, from the Nov. 18, 1974 Vancouver Province.