Thursday, Sept. 29: You can write to us too, at letters@ottawacitizen.com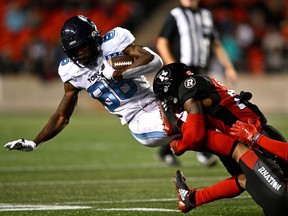 Toronto Argonauts wide receiver Damonte Coxie (86) is tackled by Ottawa Redblacks linebacker Frankie Griffin (28) during CFL football action in Ottawa on Sept. 24.

Photo by Justin Tang

/

The Canadian Press
Let's make memories at TD Place
As the leafs crispen and the atmosphere chills, there is something beautiful happening at TD Place: the ghost of the Ottawa Rough Riders has returned and is haunting the football stadium top to bottom.
Sign up to receive daily headline news from Ottawa Citizen, a division of Postmedia Network Inc.
By clicking on the sign up button you consent to receive the above newsletter from Postmedia Network Inc. You may unsubscribe any time by clicking on the unsubscribe link at the bottom of our emails. Postmedia Network Inc. | 365 Bloor Street East, Toronto, Ontario, M4W 3L4 | 416-383-2300
Thanks for signing up!
A welcome email is on its way. If you don't see it, please check your junk folder.
The next issue of Ottawa Citizen Headline News will soon be in your inbox.
I remember a "snow game" late in a lost season when 6,000 fans sounded like 27,000 and Ottawa stole its only home win. The last game the following year was played in a downpour and the meagre crowd celebrated as if a Grey Cup had been claimed.
Without the crowds and the pressure, you have a stadium bursting with the real spirit of true football lovers. There are two home games left and I am willing to bet some good memories are about to be made.
Peter Boyle, Ottawa
Why cling to monarchist titles?
This whole discussion of head of state in Canada leaves me puzzling as to why we cling to such dated and repugnant terms as "queen," "lord," "duke" and such. It's not just government. Think "Lord Vader" and "King of Comedy."
I am no one's vassal. I cannot accept the anachronistic notion that Elizabeth or Charles Windsor deserve to be on our currency and postage simply by the arranged accident of their births.
That said … Sir Thomas of Markwell? It does have a nice ring.
Thomas Brawn, Orléans
Hearty thanks for the fill-up
Recently, I stopped at the Ultramar gas station on Merivale Road to fill up as usual.
I had taken just one credit card with me and, much to my horror, when I went to pay the card was refused. This had never happened to me before, and what's more I was stranded there until someone came to pay my bill. Having no family in Ottawa, I called a neighbour who graciously agreed to "bail me out."
However, while I was waiting, another customer entered the office to pay her bill and we started to chat about the neighbourhood etc. When the lady heard my story, she insisted upon paying my bill, stating, "It is my good deed for the day." She would not tell me her name and said that she did not wish to be reimbursed.
I am still thinking about her most generous gesture, and I wish to say publicly how much I appreciated it. It is not every day that someone pays one's gas bill (around $50). So, thank you, whoever you are. I hope that you see this and read of my sincere gratitude.
Jennifer Davis, Ottawa
Bike shop closure shows our priorities
Re: Convoy, COVID and bureaucracy spell end for Sparks Street bike shop, Sept. 23.
The owner of the bike shop is right to be annoyed at the support given to a luxury car dealership while all he can get is sympathy. While the car shop will undoubtedly bring benefits, I will bet his bike shop would serve the community by facilitating transportation that is low-tech, emission-free and provides physical activity with all its attendant benefits.
So why not help him? Government seems to have its priorities upside down, inside out and backwards — all at the same time!
John A. Beggs, Orléans
Today's letters: Support for Pierre Poilievre; concern about the climate

Today's letters: Aftermath of Hurricane Fiona; the future of St. Brigid's