Article author:
Related press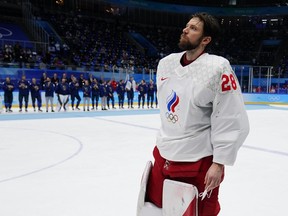 Russian Olympic Committee goalkeeper Ivan Fedotov (28) won a silver medal after Finland was defeated. Skate across the ice to win. The Russian Olympic Committee for the Men's Gold Medal Hockey Game at the 2022 Winter Olympics in Beijing on Sunday, February 20, 2022.

Photo: Matt Slocum

/

Related coverage
Philadelphia Flyers Goal Tending Outlook Ivan Fedeau His agent, who reportedly had Tof picked up, said on Tuesday that he was currently at a remote military base in northern Russia by Russian law enforcement agencies last week prior to the planned relocation to the United States.
Agent J.P. Barry spoke to the Associated Press in speculation about Fedotov's well-being. This situation has raised new concerns about whether Russian players are willing or able to join the National Hockey League team drafting this week as the war in Ukraine continues.
The 25-year-old Fedotov is considered one of the top goalkeepers in the world outside the NHL, and the Flyers expected him to compete for the roster next season. He won a silver medal as a Russian starting goalkeeper at the Beijing Olympics in February and led CSKA Moscow to the Gagarin Cup as a KHL champion.
He was the Flyers' seventh round pick in 2015, but has been playing in Russia ever since, and CSKA retains his rights. NHL and KHL have not signed a player transfer contract, and Fedotov was eligible to sign Philadelphia in May simply because he did not have an existing contract in Russia next season.
CSKA, whose name means "Army Central Sports Club", was founded in 1946 as a Soviet hockey team and still has a traditional connection with the army. I have.
The first sign that something went wrong for Fedotov came on Friday. According to Russian media, he was arrested by law enforcement and taken to a military enlistment center outside the hockey rink in his hometown of St. Petersburg, where he was filming a documentary with a television crew. Local news site Fontanka reportedly suspected of avoiding the military service required of Russian men.
Fedotov's leading lawyer, Alexei Ponomaryov, told Russian news agency RIA Novosti on Saturday that Fedotov was apparently taken to a military hospital for stress-induced gastritis. Ponomaryov said he and his relatives in Fedotov were not allowed to visit.
The Russian Ministry of Defense has not commented on Fedotov's whereabouts. The Russian newspaper Sport Express released on Monday a photo of Fedotov at a military base in the naval city of Severodvinsk, which has a shipyard on the north coast of Russia, but there are conflicting reports of where he is.
"We have a draft in line with the law, so emotional commentary would be totally inadequate," Kremlin spokesman Dmitry Peskov was asked about the Fedotov case on Monday. I said when. "There are good reasons for the postponement, and there are various ways to get military service for athletes."
Russia will recruit more than 130,000 soldiers in a year's military service this spring. I was aiming for that. The law allows 21 months of alternative civil servants in hospital-like facilities for those who oppose military service, but requests are often ignored. In theory, Russian men could be drafted between the ages of 18 and 27, but some do not serve at all.
Russians often try to avoid or delay being drafted for medical or educational tax exemptions, and athletes are no exception. While they continue their sports career, some arrange to apply for college with years of distance learning programs.
The army also has special units that allow elite-level athletes to continue to compete while in service. The Ministry of Defense boasted a large number of athletes with military ranks competing in recent Olympics in sports ranging from judo to skiing.
NHL and Chuck Fletcher, general manager of the Flyers, said the team is aware and investigating. Like last week, Fletcher said he hopes Fedotov will be competing for a spot on the roster next season.
From the newsroom to the noon inbox, Toronto Sun's latest headlines, stories, opinions and photos. By clicking the
sign-up button, you agree to receive the above newsletter from Postmedia Network Inc. You can unsubscribe at any time by clicking the unsubscribe link at the bottom of the email. Postmedia Network Inc. | 365 Bloor Street East, Toronto, Ontario, M4W 3L4 | 416-383-2300
Thank you for registering.
A welcome email has been sent. If you don't see it, check your junk folder.
Your Midday Sun's next issue will arrive in your inbox shortly.