SkyTrain is looking for 300 new workers and is holding a recruitment camp to bolster its workforce with expansions down Broadway in Vancouver and to Langley in the works.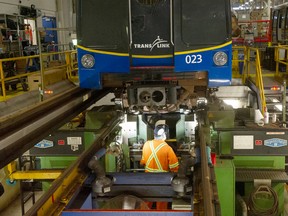 TransLink vehicle technician Dale Chupik works on machining a wheel under a SkyTrain car at the company's Burnaby facilities on Wednesday.

Photo by Mike Bell

/

Mike Bell/PNG
Whether it's cutting rails with a two-stroke saw, towing train carriages back and forth with a hand-held remote, or testing the switches than move rail cars from track to track, there are many more jobs at SkyTrain than the yellow-and-blue-vested attendants the travelling public is familiar with.
SkyTrain is looking for 500 new workers and is holding a recruitment camp in late October to bolster its workforce with expansions down Broadway in Vancouver and to Langley in the works.
Start your day with a roundup of B.C.-focused news and opinion delivered straight to your inbox at 7 a.m., Monday to Friday.
By clicking on the sign up button you consent to receive the above newsletter from Postmedia Network Inc. You may unsubscribe any time by clicking on the unsubscribe link at the bottom of our emails. Postmedia Network Inc. | 365 Bloor Street East, Toronto, Ontario, M4W 3L4 | 416-383-2300
Thanks for signing up!
A welcome email is on its way. If you don't see it, please check your junk folder.
The next issue of Sunrise presented by Vancouver Sun will soon be in your inbox.
"We're looking for diverse and qualified people to fill numerous specialized roles," said Thor Diakow, a spokesman for SkyTrain. "We're taking a long-term approach to attracting top-notch talent to help meet the growing transportation demands across the region."
SkyTrain's operations and maintenance centre in south Burnaby is expanding, while a new operations and maintenance centre will be built near the Braid SkyTrain station in Coquitlam to handle the extra cars that will ply the expanded SkyTrain lines.
Construction of the Burnaby facility began in 1984, and it employed 38 people, compared to about 500 today.
Inside the giant workshop there is a definite mid-1980s vibe, down to the mundanity of a City of Burnaby business license pegged on the wall at reception, with multi-million-dollar rail cars and the equipment used to move them around and refurbish them sparkling against the dull background of the cavernous shop out back.
Rail cars are moved over open pits, like the ones at oil-change shops if those stretched the length of a football field, so work such as lathing the steel wheels can take place.
"As the wheels wear, they lose their profile, which allows them to run straight down the track," Dale Chupik, a vehicle technician, said after giving a display.
"There are a lot of challenges, and you can learn a lot of new skills. It's a good place to work."
The wheels on the oldest cars are refurbished every 80,000 kilometres, the ones on the newer cars every 150,000, or about once a year.
Every two million kilometres, what is called a "truck" (a four-wheeled undercarriage, known as a "bogie" in Europe) is refurbished, including its hydraulic brakes, and the primary and secondary suspensions.
"We remove the old, take it apart down to the last bolt and nut," said Vio Vacariu, manager of rolling stock. "Then we rebuild them from scratch."
When rails need to be replaced, the work takes place between 1:30 a.m. and 5 a.m. when the tracks are shut down.
"A lot of people ask why we don't run trains all night," Andrew Schmuland said. "But that's when we do maintenance."
Inside a room where rail-switch machines are tested, technician Carlos Silva is certified to tear apart the German-made gizmos, right down to the case.
"As far as I know, (trained SkyTrain personnel) are the only ones in North America doing this," Silva said.
The switch machines are manufactured by Thales, a rail-field equipment firm, and once they arrive in Burnaby each one gets tested 200 times before it is placed on-track.
"Some of them have lasted 30 years, over a million cycles (of switching tracks)," Silva said.
SkyTrain's fleet currently sits at 364 carriages, which are stored at Burnaby. When the New West operations and maintenance centre opens it will store 145 more, when new "Mark 5" cars arrive in late 2025 and original Expo Line Mark 1 cars are phased out.
The in-house recruitment camp Oct. 29 is the first time SkyTrain has held such an event.
It runs from 9 a.m. to 3 p.m. at 6800 14th Ave. in Burnaby, with applications available at translink.ca. Those unable to attend in person can send resumes to bcrtchr@bcrtc.bc.ca.
gordmcintyre@postmedia.com
twitter.com/gordmcintyre
TransLink opens new customer service centre at Waterfront Station

Online petition urges TransLink to ease restrictions in its pet policy