"Now is the time to get a little more political," says Vancouver Police Union president Ralph Kaisers.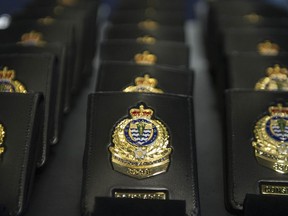 Vancouver, BC: JANUARY 10, 2020 -- Twenty-four new members of the Vancouver Police Department, Recruit Class 162, are sworn in at VPD headquarters in Vancouver, BC Friday, January 10, 2020. Pictured are badges awaiting their owners, as recruits are sworn-in.

Photo by Jason Payne

/

PNG
Vancouver's police union is taking a more active role in this year's municipal election than any campaign in memory, hosting a candidate's forum, registering as a third-party advertiser and, possibly for the first time ever, endorsing political candidates.
While other unions and labour organizations, including the firefighters' union, regularly make political endorsements, Vancouver Police Union president Ralph Kaisers says this might be the first time his group has ever done so.
Start your day with a roundup of B.C.-focused news and opinion delivered straight to your inbox at 7 a.m., Monday to Friday.
By clicking on the sign up button you consent to receive the above newsletter from Postmedia Network Inc. You may unsubscribe any time by clicking on the unsubscribe link at the bottom of our emails. Postmedia Network Inc. | 365 Bloor Street East, Toronto, Ontario, M4W 3L4 | 416-383-2300
Thanks for signing up!
A welcome email is on its way. If you don't see it, please check your junk folder.
The next issue of Sunrise presented by Vancouver Sun will soon be in your inbox.
"I have looked back, and no one can remember or find anything about us endorsing anyone in the past," Kaisers told Postmedia News on Friday. "I guess in a perfect world, we wouldn't have to. But things in our world have not got better in the city. … So probably now is the time to get a little more political."
The police union's primary concern is about lack of funding, staffing and resources, Kaisers said.
One point of contention for the VPD was when Vancouver city council decided in late 2020 not to fully fund the following year's budget that was requested by the department and recommended by the police board. Instead, council approved a 2021 police budget of about $316 million, slightly more than the previous year's budget, but around $5.7 million less than what the board requested.
Council's decision on the 2021 budget came as the city was grappling with the COVID-19 pandemic, and looking at trimming budgets in several city departments. The police budget decision was widely criticized by VPD leadership, the union, the police board and others. At the time, Vancouver Police Chief Adam Palmer released a statement saying he was "concerned this decision will directly impact public safety in Vancouver and the wellness of our officers."
In a rare move, the police board asked the province to review it out of concern for minimum levels of public safety, and, in March 2022, B.C.'s director of police services decided in their favour, overruling city council's decision and ordering the $5.7 million to be restored to the VPD budget.
After the contentious decision on the VPD's 2021 budget, council voted to approve the police board's recommended $367 million budget for 2022, which included arbitrated wage increases of $15.7 million.
Kaisers said the Vancouver Police Union has submitted questionnaires to every Vancouver political party, and received responses back. Also for the first time in memory, the union will host a municipal candidates' forum on Monday, Oct. 3. All major civic parties have been invited, Kaisers said.
Soon after Monday's event, Kaisers said, the union expects to endorse its chosen candidates.
"We're short-staffed, under-resourced and have been for a long, long time. Our members are burnt out and their mental health is struggling," Kaisers said. "So we need a commitment from council to hire more people."
dfumano@postmedia.com
twitter.com/fumano
Municipal Election 2022: What candidates say they'll do about the housing crisis

Advance voting for municipal election opens Saturday in Vancouver