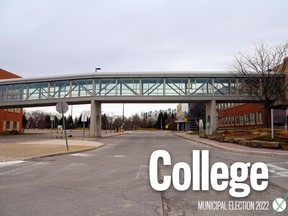 College
Postmedia
Quick facts about the College ward
Sign up to receive daily headline news from Ottawa Citizen, a division of Postmedia Network Inc.
By clicking on the sign up button you consent to receive the above newsletter from Postmedia Network Inc. You may unsubscribe any time by clicking on the unsubscribe link at the bottom of our emails. Postmedia Network Inc. | 365 Bloor Street East, Toronto, Ontario, M4W 3L4 | 416-383-2300
Thanks for signing up!
A welcome email is on its way. If you don't see it, please check your junk folder.
The next issue of Ottawa Citizen Headline News will soon be in your inbox.
Incumbent: Rick Chiarelli
Candidates running: Laine Johnson, Granda Kopytko, Wendy Davidson, Pat McGarry and Vilteau Delvas
Where is ward 8?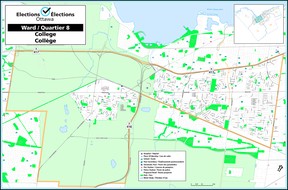 SURVEY RESULTS
Do you reside within this ward?
Laine Johnson: Yes
Granda Kopytko: Yes
Wendy Davidson: Yes
Pat McGarry: Did not participate
Vilteau Delvas: Yes
Why do you think you're the best person to represent your ward?
Laine Johnson: "I've led public institutions, hosted community consultations and guided a corporation experiencing a revenue freeze due to the pandemic. I've taught 'City Hall 101', know the machinery of the city and have strong relationships with city staff, officials and communities. I'm a non-partisan, independent voice focused on getting results"
Granda Kopytko: "I am the best choice for College Ward because, after living here for 22 years, I know my ward as a parent as well as someone who lives and works here. As a National Executive Director with CAPE, the third largest federal union, I have experience in leadership and consensus building"
Wendy Davidson: "I have an honours degree in political science from Western and I have been president or an executive on various councils. I have lived in College Ward for 15 years. I have a genuine love for this community and I'm not here just to help, I'm here to make things happen"
Pat McGarry: Did not participate
Vilteau Delvas: "Because I am not a politician. I am looking for solutions, not talk just to talk"
What is the most important issue in your ward? Why?
Laine Johnson: "Safe streets during growth. College Ward has deficits, we aren't growing at the same pace as other wards, which means we can't direct investment dollars back into our own streets to improve road safety for pedestrians and cyclists and support our local businesses. Growth must be done thoughtfully to benefit surrounding neighbourhoods. As a resident of College Ward, I see firsthand the dangerous intersections, lack of sidewalks, disjointed cycling and walking paths and potholes. As we grow, we will need to prioritize the inclusion of safe transportation options for everyone"
Granda Kopytko: "The disturbing aspects of intense localized development, such as inadequate parking, and a paucity of green space coupled with a lack of walkable amenities is an issue that I predict will grow exponentially in importance in College Ward over the next few years. There are large buildings planned along Merivale, several currently being built along Baseline and planning is underway for two towers to be constructed in Centrepointe. Also Stillwater Station, a huge mixed complex of towers and multi-unit dwellings is to be constructed in Bells Corners. Thoughtful development is needed, being mindful of the concerns of the current residents while taking our future neighbours into account"
Wendy Davidson: "If College Ward is your home, it is important to know that it is my home too. If your power is out, chances are mine is out. This is our opportunity to grow together. I promise to have open communication with my neighbours with an open-door policy including neighbourhood walk and talks, coffee chats, community meetings, newsletters, social media and more. As I speak to all our neighbours, it is apparent that safety within our communities is paramount. Our residents deserve protection, enforcement and reliable city services. As councillor, I will work to petition the provincial government to enable the use of speed cameras beyond the boundaries of school zones, forcing vehicle traffic to abide by the posted speed limits. I will work with city staff to bolster our bylaw services to be more responsive, and readily available to our residents"
Pat McGarry: Did not participate
Vilteau Delvas: Submitted multiple issues, awaiting updated response
What is the most important issue citywide?
Laine Johnson: "Accountability surrounding city spending and city leadership conduct. The city hasn't done a comprehensive program review for over 10 years. We are funding programs designed a decade ago. We must ensure the revenue we collect from taxpayers is being appropriately spent on current priorities"
Granda Kopytko: "We don't trust our transit anymore and that is a problem. I live my life believing that in exchange for diligently paying property taxes, the city will supply adequate core services. My friend lives in Bells Corners and her son's bus trip to Carleton University takes one-and-a-half hours. He recently had knee surgery, so he can't drive. Public transit is failing him. Yes, there should always be service for 9-to-5 commuters, but the focus also needs to shift to issues important to seniors, and others truly dependent on transit. We deserve better than slow buses and broken trains"
Wendy Davidson: "As a city, we cannot continue as we always have, we must challenge the norm, we must question bureaucracy. We as councillors must work with city staff. They have been running this city day in and day out, they have cared for and loved this city for years. We need to break down the walls, silos and clubs. Let us use this vote to give the voice back to the people. I am not backed by a coalition attempting to bring partisan politics to municipal government. I will advocate for reviewing our transit system ensuring it is affordable, accessible and efficient"
Pat McGarry: Did not participate
Vilteau Delvas: Submitted multiple issues, awaiting updated response
How and where to vote in the 2022 Ottawa municipal election

Here are the candidates for the 2022 Ottawa municipal election
READ OP-EDS FROM COLLEGE WARD CANDIDATES:
This article is available for free — outside of our paywall — because we believe this is a matter of crucial public interest. If you'd like to support us as we continue to provide journalism that matters for all , please subscribe: https://ottawacitizen.com/subscribe/