"It was hard, acting all tough and stuff." — Matteus Lunot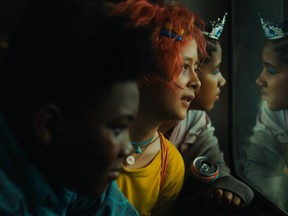 The new film Soft follows three queer adolescents as they roam the summer-warmed streets of Toronto looking for fun and a place to belong. The film stars (l-r) Harlow Joy as Otis, Matteus Lunot as Julien and Zion Matheson as Tony.
jpg
Reviews and recommendations are unbiased and products are independently selected. Postmedia may earn an affiliate commission from purchases made through links on this page.
VIFF: Soft
When and where:
Start your day with a roundup of B.C.-focused news and opinion delivered straight to your inbox at 7 a.m., Monday to Friday.
By clicking on the sign up button you consent to receive the above newsletter from Postmedia Network Inc. You may unsubscribe any time by clicking on the unsubscribe link at the bottom of our emails. Postmedia Network Inc. | 365 Bloor Street East, Toronto, Ontario, M4W 3L4 | 416-383-2300
Thanks for signing up!
A welcome email is on its way. If you don't see it, please check your junk folder.
The next issue of Sunrise presented by Vancouver Sun will soon be in your inbox.
Tickets and info: Viff.org
Prior to the feature film Soft, White Rock actor Matteus Lunot's only two onscreen acting credits came from gigs for Disney and Hallmark.
As it turns out, Soft couldn't be further from the happiest place on earth or a greeting card as it follows three queer adolescent kids running the summer streets of Toronto in a swirl of teen turbulence, punctuated by harsh realities.
Fresh off a well-reviewed turn at TIFF, Soft is one of the 237 films from 75 countries that make up this year's Vancouver International Film Festival (VIFF).
In the film, Lunot is front and centre as Julien, a tough as nails, troubled gay kid who pushes away the pain of abandonment with the bravado of a bullfighter.
Julien is joined in heavy-handed hijinks — they shop lift, swill beer on the train and lip off club bouncers — by another gay boy Otis (Harlow Joy) and trans girl Tony (Zion Matheson).
"Joseph Amenta has helmed a first feature punctuated by instances of wild abandon and aching emotion," said VIFF programming director Curtis Woloschuk. "The young actors' performances are remarkable, as the trio nimbly navigate their characters' relationships with their families (both biological and found), communities, and one another. And Matteus Lunot is an absolute revelation: a ferocious, magnetic presence from his first scene."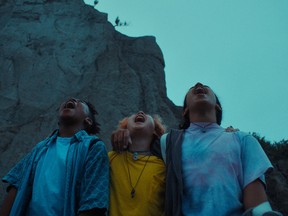 The new film Soft follows three queer adolescents as they run amok in Toronto. A love letter to friendship, the film from director/writer Joseph Amenta stars (l-r) Harlow Joy as Otis, Matteus Lunot as Julien and Zion Matheson as Tony.
jpg
When we first meet Julien, he is like a firecracker going off, but as his journey gets deeper and darker he becomes smaller, more reserved, and reflective. Lunot handles the complexity of Julien with care and a deftness well beyond his minimal experience.
"It was hard, acting all tough and stuff," said Lunot, whose castmates had even less experience on film.
"We knew when we were casting the film that we needed to find three unicorns, but we also needed to find our lead, who was capable of the duality of being free, bombastic and powerful and sometimes a bit of shit, but also could showcase vulnerability and reflection," said Amenta.
Julien is a gay boy who likes feminine clothes and has bright pink hair he holds back off his face with colourful clips. Lunot is straight.
"This was disclosed to us when he was auditioning for the movie so this is something we as parents had a discussion with Matteus, whether or not he would be comfortable playing a role like that. His answer was he is an actor," said Lunot's mother Lola Opacic Lunot. "We wanted to support him. We wanted him to be comfortable. You worry if the movie does well is he going to be teased at school?
"But he's quite confidant and he didn't care, so he had our full support."
Opacic Lunot is proud that her son decided to go forward with the role. As a social worker who works in mental health, she saw the importance of the film's normalizing approach.
"We need kids to be able to look up to other people to watch movies to see themselves to identify as regular citizens," Opacic Lunot. "We have to stop separating and hating."
"In the film we're not different. It's not mainly on us being LGBTQ. I think it is about being a kid and being who we are," added Lunot, who attends Earl Marriott Secondary School.
That sentiment is what makes this beautifully shot film so relatable. It's first and foremost a story about kids who love each other, who happen to be sharing a formative time.
"It's not a coming out story. It's not a transitioning story. It's not a bully in high school story. They are kind of removed from those tropes." said Amenta.
"I wanted the kids to feel celebratory and I wanted them to experience the frivolities of youth, which a lot of times we don't get to see a queer kid's experience on camera. They're usually quite timid and quiet. I wanted these kids to feel like colourful bandits tearing up the city streets. I wanted them to feel agency and power, because they are not really quite capable of understanding the nuances and tribulations the world has in store for them."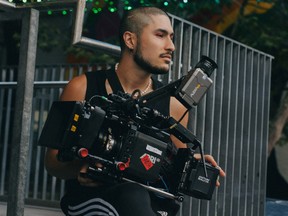 Toronto director/writer Joseph Amenta's first feature film Soft is one of the 35 Canadian feature films at this year's Vancouver International Film Festival. The festival is on until Oct. 9.
jpg
The cast got to see the film for the first time at TIFF.
"I was dazed, kind of relieved," said Lunot. "It was cool. But I don't think I processed it that well. I'll go to the Vancouver Film Festival, and I think I will be able process what is happening."
Lunot's mother was equally impressed.
"It's very interesting to see your own child on a big screen. We watched Matteus in a Christmas movie. We had a family night with the Christmas movie (Hallmark's 2021 film The Christmas Contest) that was fun. This was completely different," said Opacic Lunot. "I am looking forward to seeing the movie again because it was almost overwhelming. I was trying to hold back tears the whole time."
While talk of film festival triumphs and new-found fame is exciting and "pretty cool," Lunot's parents are not going to let the bright lights and red carpets of big screen success shift focus away from regular family life and being a kid.
"We try to keep him grounded," Opacic Lunot. "As soon as we came back from Toronto, he had math tutoring to kind of help to bring it down a little bit. He's got to do homework. He's got to do chores. He plays hockey. It's just back to regular life."
For now.
dgee@postmedia.com
twitter.com/dana_gee