'I completely understand that, if someone is not ready, I would absolutely respect that and allow them their space to not be ready'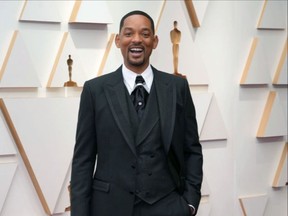 Will Smith attends the 94th Annual Academy Awards - Getty
Bang Showbiz
Will Smith says he will "completely understand" if audiences choose not to watch his upcoming slave drama, Emancipation, following his attack on comedian Chris Rock at the Academy Awards earlier this year.
"I completely understand that, if someone is not ready, I would absolutely respect that and allow them their space to not be ready," Smith told Fox DC reporter Kevin McCarthy. "My deepest concern is my team – (director) Antoine (Fuqua) has done what I think is the greatest work of his entire career. The people on this team have done some of the best work of their entire careers, and my deepest hope is my actions don't penalize my team. At this point, that's what I'm working for."
As the Canadian national soccer teams head to their respective FIFA World Cups, Derek Van Diest is on the scene to cover all the action. Expect expert insights and analysis in your inbox daily throughout the tournaments, and weekly on Thursdays for the rest of the season.
By clicking on the sign up button you consent to receive the above newsletter from Postmedia Network Inc. You may unsubscribe any time by clicking on the unsubscribe link at the bottom of our emails. Postmedia Network Inc. | 365 Bloor Street East, Toronto, Ontario, M4W 3L4 | 416-383-2300
Thanks for signing up!
A welcome email is on its way. If you don't see it, please check your junk folder.
The next issue of Corner Kicks with Derek Van Diest will soon be in your inbox.
"I completely understand that if...someone is not ready, I would absolutely respect that and allow them their space to not be ready...My deepest hope is that my actions don't penalize my team."

Will Smith on audiences who aren't ready to watch his films after Oscars. #GoodDayDC pic.twitter.com/2fc3XaXbMa

— Kevin McCarthy (@KevinMcCarthyTV)

November 28, 2022
Emancipation is Smith's first new film since he slapped Rock for making a joke about his wife Jada Pinkett Smith's hair during the broadcast, comparing her look to actress Demi Moore's buzz cut in G.I. Jane. It was unclear whether Rock was aware that Jada suffers from alopecia, a condition that causes hair loss.
Will Smith apologizes to Chris Rock again: 'I'm here whenever you're ready to talk'

Will Smith angrily tells Jada 'you can't use me' in resurfaced viral clip

Inside Will Smith and Chris Rock's long-running feud after Oscars smack
In response to the assault, the Academy of Motion Picture Arts and Sciences announced it was banning Smith from attending any Academy events, including the Academy Awards, for a period of 10 years.
"I accept and respect the Academy's decision," Smith of their decision, before retreating from the public eye.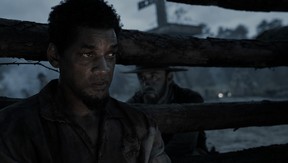 Will Smith and Ben Foster in "Emancipation," premiering Dec. 9, 2022 on Apple TV+.
Photo by Apple TV+
In July, Smith took to Facebook to answer fan questions.
"It's been a minute … Over the last few months, I've been doing a lot of thinking and personal work," Smith captioned the video. "You asked a lot of fair questions that I wanted to take some time to answer."
When Smith was asked why he didn't apologize to Rock during his Best Actor acceptance speech, Smith said he was "fogged out."
"It's all fuzzy. I've reached out to Chris and the message that came back is that he's not ready to talk, and when he is he will reach out," Smith said. "So I will say to you, Chris, I apologize to you. My behaviour was unacceptable, and I'm here whenever you're ready to talk."
Set to be released by Apple next month, Emancipation follows an escaped slave (Smith) as he tries to evade cold-blooded hunters and the unforgiving swamps of Louisiana as he journeys towards freedom. The film is inspired by the gruesome 1863 photos of "Whipped Peter," which helped lead to the growing public opposition to slavery.
"I'm hoping that the material – the power of the film, the timeliness of the story – I'm hoping that the good that can be done would open people's hearts at a minimum to see and recognize and support the incredible artists in and around this film," Smith said.
mdaniell@postmedia.com