While Anglade campaigned in Outaouais, mother with two young children urged the Liberal party leader to do something for seniors in Quebec.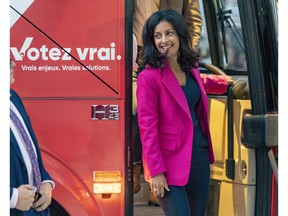 Quebec Liberal Party Leader Dominique Anglade exits her campaign bus Sept. 22, 2022.

Photo by John Mahoney

/

Montreal Gazette
GATINEAU — While keeping an eye on how post-tropical storm Fiona bears down on Îles-de-la-Madeleine, Quebec Liberal Party Leader Dominique Anglade continued to campaign on Saturday.
Anglade said she decided to hold scheduled campaign events but not to make any announcements. Other party leaders partially suspended their campaigns.
Sign up to receive daily headline news from the Montreal Gazette, a division of Postmedia Network Inc.
By clicking on the sign up button you consent to receive the above newsletter from Postmedia Network Inc. You may unsubscribe any time by clicking on the unsubscribe link at the bottom of our emails. Postmedia Network Inc. | 365 Bloor Street East, Toronto, Ontario, M4W 3L4 | 416-383-2300
Thanks for signing up!
A welcome email is on its way. If you don't see it, please check your junk folder.
The next issue of Montreal Gazette Headline News will soon be in your inbox.
"We'll be on the ground with the people here in Outaouais, but my first thoughts are going to the people in Îles-de-la-Madeleine," Anglade said following a breakfast with local candidates.
Anglade has been communicating with her team in Îles-de-la-Madeleine since Friday night and didn't rule out visiting once the storm has passed.
She said her main priority is ensuring people are staying safe and have the resources they need.
"Honestly, this has nothing to do with the campaign," she said. "When you have a situation like this, you have to be with the people and support them, regardless of what's going on. What matters is the security of the people first and foremost."
After meeting with local candidates in the morning, Anglade made her way to a street fair in Hull, where she met with merchants to try to get her vision across to undecided voters.
Moments before selling Anglade a homemade bracelet from his booth, Jotsadak Kennedy, 21, said he wishes party leaders would speak more about the province's young people during the campaign.
"I think it's important for all parties to focus more on the youth and the issues that matter to us," Kennedy said, listing job security, access to housing and inflation as his main concerns.
"It's hard as young adults right now to know what our future will be like," he said.
Soon after, a mother with two young children stopped Anglade and urged her to do something for seniors in Quebec, particularly regarding the state of the province's long-term care centres, CHSLDs.
"My parents aren't there yet, they're 65 years old, but I want it to be different 10 years from now," she told Anglade. "I think it should be the government's priority because we know it will take years to change."
In the 2018 provincial election, the Liberals lost three of five ridings in the Outaouais region to the Coalition Avenir Québec, with Chapleau, Gatineau and Papineau going to François Legault's party.
Speaking to reporters on Saturday, Liberal candidate Maryse Gaudreault, in her sixth election campaign, said she likes the party's chances of regaining ground in the region this election.
"We almost had a CAQ wave during the last election (in Outaouais), but I think it's stabilized a lot since," Gaudreault said.
"I think people felt like changing (in 2018) or trying out a new political party," she added. "But this time around I'm hearing from a lot of undecided voters and people saying they won't vote for the CAQ — something I didn't hear before."
Anglade is scheduled to spend Saturday afternoon at campaign stops in Lachute.
jfeith@postmedia.com
Legault suspends campaign to deal with fallout of Hurricane Fiona

'It's important': Anglade says Legault should answer referendum question

Liberals remain best choice for anglophones, Anglade tells Gazette editorial board