It is not often that one comes across a 16-year-old who runs an NGO. And rarer still is that it involves teaching chess to under-privileged children. Khushi Khandelwal does just that.
A Class 11 student at the Bombay Scottish School, 16-year-old Khushi, who won bronze at the Asian Youth Championship, Mongolia in 2016, runs her own NGO called Injoy Chessklub, started in January 2017.
Injoy Chessklub is jointly managed by Khushi and her younger sister Krisha, who was Under-9 National Champion. They spend about four to five hours every week introducing children to chess and helping them grasp the nuances of the game of 64 squares.
Khushi says, "I started this NGO as I've seen under-privileged children, especially in rural areas, whiling away their time. The urban population, too, does that, but I want to teach rural under-privileged children as they do not have access to opportunities to learn."
During their classes or workshops, Khushi and Krisha distribute chess boards and T-shirts among the children and it is funded by the prize money from tournaments the sisters win.
The idea of an NGO
The idea to teach chess began to germinate in young Khushi's mind when two not-so-apparent aspects of the game impacted her.
The first one was that as Khushi got deeply involved in playing chess, to which she was introduced to at the age of 10 by her father, she realised that it helped her improve concentration levels drastically.
The second is that she enjoyed teaching chess to other children, especially the under-privileged.
Talking about how chess helped her stay focussed, Khushi says, "When I was younger, I found it difficult to concentrate and was easily distracted. But playing chess helped me overcome this problem."
Khushi says that as she started to stay focussed, her grades began to improve drastically. "I scored 97 per cent in 10th standard and that too after devoting only one month to studies because of my chess commitments," adds Khushi.
Having experienced the benefits of playing chess, Khushi felt that other children too should be made aware of it.
About her desire to teach chess, Khushi says, "In December 2016, I was visiting my grandmother's hometown called Mandawa in Rajasthan, where I was introduced to a school principal. He heard about my chess and asked me if I would be willing to talk to his students about chess.
"I taught chess to about 45 students there and realised that I enjoyed the experience. It motivated me to start something of my own."
And, thus, was born the idea to start Injoy Chessklub.
The classes
Khushi now teaches about 70 children in two batches (35 for Class 5-6 students and 35 for Class 7-8 students) at a school run by the BrihanMumbai Municipal Corporation in Dadar.
"An introductory session was conducted with the aim that those interested would sign up for the session," says Khushi.
Asked how she managed to convince children to take up chess classes, Khushi says, "I didn't have to. All of them signed up."
Explaining the age-groups, Khushi says, "At that age (5th to 8th standard) children can grasp well. As of now, it's just these two batches where the children are mostly taught the basics of chess.
"When the students of 7th and 8th go to Class 9, they will learn chess at an advanced level, the batches will then be segregated into basic, intermediate and advanced," explains Khushi. "They will be trained weekly and we plan to conduct tournaments for them around December, after that I will get a new batch of students to replace the 5th standard."
Tight schedule
Khushi is serious about her academics and aims to pursue career in mathematics and computer science. And, apart from studies and chess, she has one more passion.
"I love singing and have been training in Hindustani Classical music from the age of nine," she says.
All the activities leaves Khushi with little free time. "That's why I'm very thankful to my principal at the Bombay Scottish School for supporting me," she says.
"It is a strict schedule for me. I don't go to parties, I stay away from my mobile phone for days and it is rare that I get to hang out with friends," she says.
However, it is all worth it, she adds. "When I see children's enthusiasm and happiness during my chess class, it makes me feel good.
"Though I teach them, I have a learnt from these children as well. I have learnt that less is actually more. Little things make them very happy."
The NGO and the teaching is a long term plan, says Khushi, stressing that she will continue to teach chess.
"Through chess I hope to decrease the violence rate and increase the graduation numbers," says Khushi.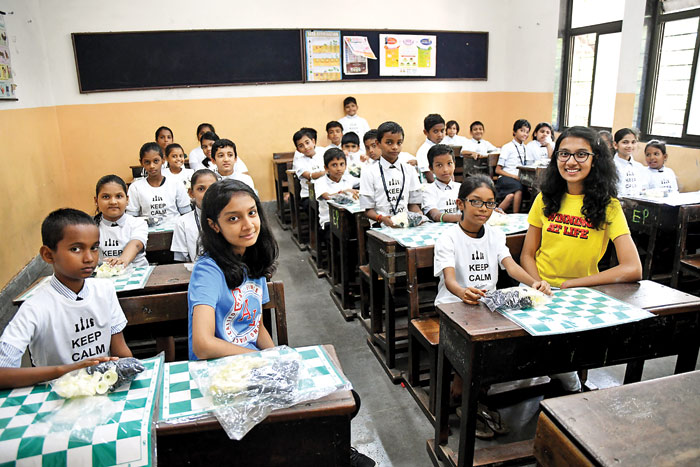 Sisters Khushi Khandelwal (in yellow T-shirt) and Krisha Khandelwal (in blue T-shirt) with their chess students in Mumbai —Hemant Padalkar/DNA