In a bid to promote micro water management, the Maharashtra government has decided to offer subsidised loans of Rs 85,000 per hectare for installation of drip irrigation system in farms.
According to the notification issued by the state agriculture department, the loan has been subsidised to enable more farmers to avail the scheme. "The interest over this offered loan will be mere 5.5 per cent. This loan will be provided for a period of five years and farmers can avail this scheme for up to five hectares of land," as mentioned in the notification which is in possession with DNA.
As per the government data, out of total water stock in the state, 60-70 per cent is used for irrigation. "However, the purpose is to bring maximum land under plantation using minimum water resources. Only advanced irrigation technology can achieve this. This will also save 30-50 per cent of water stored in the dams and reservoirs around the state. It will also help to curtail the expenditure on fertilisers, pesticides and improve production," said a senior agriculture official.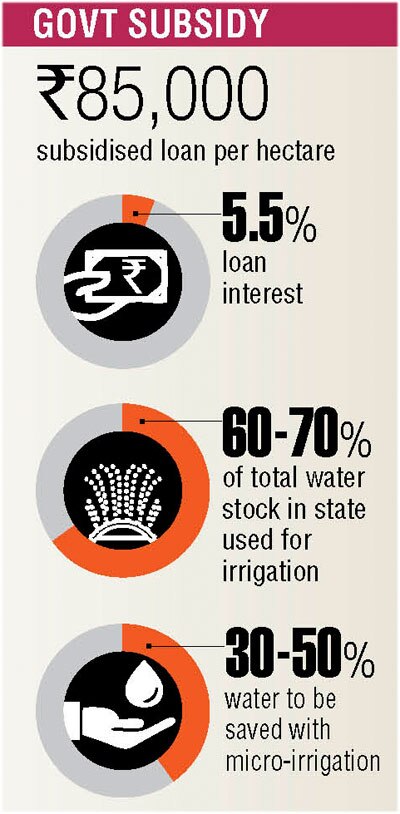 A study by the government's agriculture department claims that the new technology will bring down water consumption for sugarcane cultivation from 25000 cubic metre water to 7500-to-12500 cubic metre water.
In Maharashtra, out of 9.42 lakh hectares land under sugarcane plantation, only 2.25 lakh hectares has been brought under micro-irrigation system. By 2019, the state government wants to bring the remaining 7.18 lakh hectares land under micro-irrigation system.
"We are also asking cooperatives and private sugar factories to encourage the farmers to use the micro water management technology," said official.
Dr KB Patil, vice president at Jain Irrigation told DNA that the micro water management has multiples advantages. "Apart from saving water, quality of productions will also go up. The drip irrigation not just waters the land but the root of the crop as per requirement. This technology will help efficient use of water," Patil said.
He further said that the micro water management is the need of the hour. "After using this technology, sugarcane productions increased by 2.5 per cent in last four years while banana production increased by 35 per cent in last 20 years. Duration of cultivation has also gone down drastically. Sugarcane can be cultivated in 12 months against the 18 months using conventional method. Same with banana which can be cultivated in 11 months against the earlier 18 months," Patil added.
BENEFITS OF MICRO-IRRIGATION