Seven candidates from Gujarat have made it to the top 50 merit list of the National Eligibility cum Entrance Test (NEET) 2018 result, released on Monday by the Central Board of Secondary Education (CBSE). Interestingly, this year, there was an increase of 16.49% in a number of registrations. However, the number of transgenders taking the exam dropped massively with only 1 candidate taking the exam as against 8 last year.
Three who made it to top AIR 25 included Sahil Shah AIR 15, Tanuj Jatin Presswala AIR 18, Shlok Viral Patel AIR 24.
The Medical Council of India (MCI) will soon start the counselling procedure for 15% All India Quota seats. For the rest of the 85 per cent seats, that falls under state quota, counselling will be conducted separately by the concerned authorities on the state level. Over 7 lakh candidates have qualified the competitive examination, out of which 6.3 lakh are from the general category. The exam was conducted on May 6 this year and over 13 lakh candidates had appeared for the same.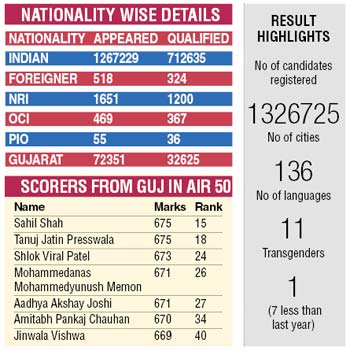 Of the 553849 males who had appeared, 312399 qualified in the exam as against 402162 females qualified out of 716072 appeared. The only transgender who took the exam qualified. Of the 518 foreigners who appeared for the exam, 324 qualified.
This year, the cut-off for the general category stands at 50 per cent, and 40 per cent for other category candidates. Around, 6,34,987 candidates got marks in the margin of 691 to 119. Other candidates received marks less than 118. A total of 11 candidates were identified using unfair practices in the examination and hence the results have been cancelled and they have been debarred from appearing in the medical entrance examination.
MEET THE IGNITED MINDS
Sahil ShahShah, who hails from Surat, is passionate about English literature. Along with his studies, Shah writes fiction novels regularly for his blog. His parents are dentists, but he refuses it to be the only reason to pursue medicine. He says, "Since class 10, I was quite fascinated with medicine though I have not yet thought about specialisation. While I expected a rank under 100, AIR 15 was a big surprise for me. I do not even have a social media account as I feel it distracts a lot. Stick to basics and study only NCERT. All questions were asked from NCERT, nothing was out of syllabus," is Sahil's tip for aspiring students.
Mohammadanas Mohammadyunus MemonFor Memon, scoring AIR 26, was a big surprise. He said, "While I expected to rank in top 100, a rank in top 30 was a total surprise." Mohammadanas, who hails from Himmatnagar, shifted to Ahmedabad two years ago and would study upto seven hours a day for NEET. He loves watching movies and playing cricket. While he stopped using phone few months before his exams, he continued watching movies to relieve stress. His tip for aspiring candidates is to study and practice every day.