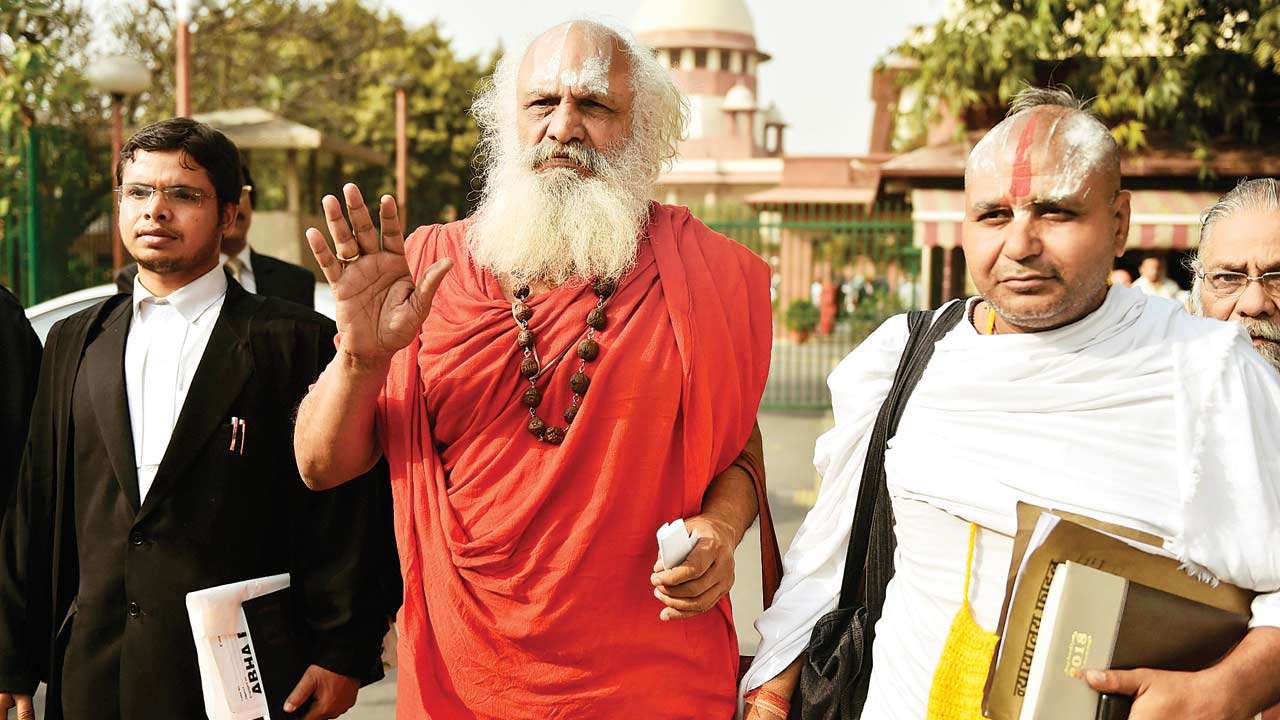 Mahant Dharam Das (centre) leaves after a hearing at Supreme Court in New Delhi on Wednesday. , PTI
The Supreme Court rejected all pleas seeking to intervene in the ongoing Babri Masjid-Ram janmabhoomi title suit case. The top court's order came on the heels of objections put forward by counsels representing the original parties on both sides.
The Special Bench, comprising Justices Ashok Bhushan and SA Najeeb, accepted the contention that only original parties to the dispute should be allowed to advance arguments in this case. After a brief hearing on this issue, the bench further accepted that intervention applications of unrelated persons seeking to be impleaded as parties should be rejected.
"Having heard learned counsel for the parties, we are of the considered opinion that these interlocutory applications do not merit any consideration and they are accordingly rejected," a special bench of the top court said. "We further direct the Registry not to entertain any interlocutory applications for intervention/ impleadment/ for filing any book or additional documents/ for seeking permission to give assistance in these appeals from any third party," the bench, led by Chief Justice of India Justice Dipak Misra, added.
BJP leader Subramanium Swamy objected to the contentions made and submitting that his writ petition seeking his fundamental right to pray was converted to an intervention application at the court's instance. Though the attempt at intervention was rejected, the top court revived Swamy's original petition where he sought his fundamental right to pray at the Ram temple on the disputed site in Ayodhya.
"I had filed a writ petition saying that I have a fundamental right to worship and this is a superior right than the property right," Swamy had said before the three-judge bench on Wednesday.
The controversial structure known as Babri Masjid was razed to the ground by Karsevaks on December 6, 1992. The court is hearing 13 appeals against a 2010 judgement by Allahabad High Court on four civil suits filed over the title of the land that is known to Hindus as the 'Ram Janmabhoomi', or the land where Hindu God Lord Ram was born.
A three-judge Bench of the Allahabad High Court, in a 2:1 majority ruling, had ordered the partition of the land equally among three parties — the Sunni Waqf Board, the Nirmohi Akhara and the deity, Ram Lalla.