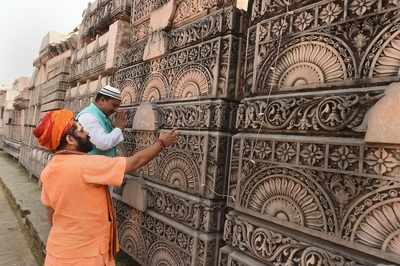 AYODHYA: Mahant Satyendra Das, the caretaker head priest looking after Ram Lalla idol in makeshift Ramjanmabhoomi temple since 1992, says he does not prefer immediate installation of the idol and will wait till a new temple is constructed.
He said the SC verdict has ended the second 'vanvas' (exile) of Lord Ram, this time stretching over 26 years. "Jaise prabhu ne
vanvas
jhela tha 14 varsh tak, 26 varsh se adhik woh tirpal (tent) mein pade rahe. Bina Ram ki kripa ke kuchh nahi hota. Ab kripa ho gayee hai, ab taat se uthkar bhavya mandir mein virajmaan honge (Just as the Lord was on a 14-year exile, now too he stayed under a tent for over 26 years. Nothing happens without the sanction and blessings of Ram. Now, He will move from this tent and preside over a grand temple)," Das told TOI.
He was appointed by Allahabad HC to bathe, feed, and dress the Ram Lalla idol and has been taking care of the Lord since March 1, 1992. He added that he would extend all help to Muslims when the
mosque
would be built at an alternative site, saying Ram's teachings showed love for all Ayodhyavasis (residents of
Ayodhya
), irrespective of faith.