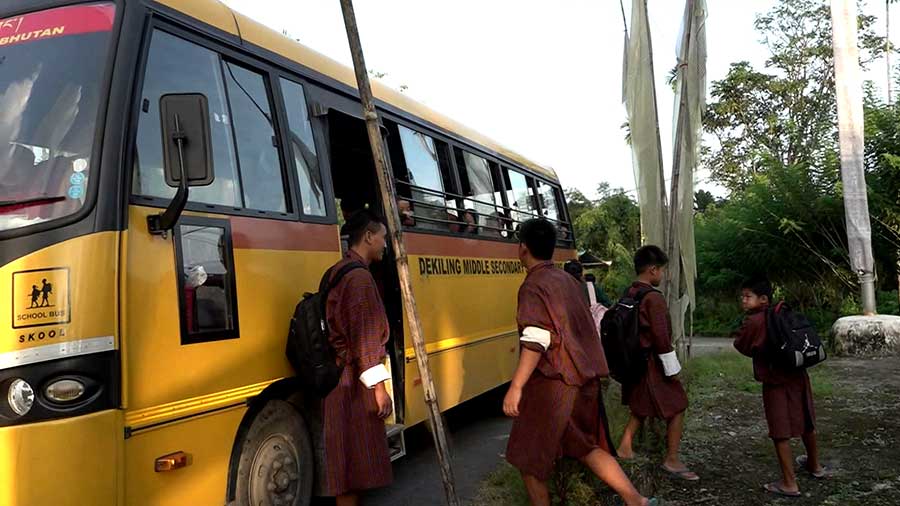 For some students of Dekiling Middle Secondary School in Gelephu, getting a formal education meant walking miles along the Gelephu – Sarpang highway in the sun or rain. But not anymore. Their journey to school was made a lot easier and more comfortable with the introduction of a bus service.
Gawathang village of Dekiling Gewog and Darjaythang village in Shompangkha Gewog are about five kilometres from Dekiling Middle Secondary School. 130 students from these two villages had to walk 10 kilometres to and fro every day until last year.
"In the past, we had difficulty walking in the rain. Our books used to get wet. We would reach home late in the evening and would also get late for school in the morning. Now, we have no problem reaching school and getting back home on time. We also get the time to help parents and do our homework," said Jiten Rai, a student of Dekiling Middle Secondary School.
"Until the introduction of the bus service, we would fall asleep after returning home from school. Moreover, there was a danger of getting washed away by flood during the rainy season and encountering wild elephants on the way," added Deki Wangmo, also a student of the same school.
According to Shompangkha Gup, in the absence of the bus service, some parents used to hire taxis paying Nu 2,000 every month to pick up and drop off their children. For the bus service, they have to pay only up to Nu 400 monthly.
"Being along the border area, we are at high risk. People appealed to the gewog administration that children walking to school encounter problems. There are around four gewogs located along the border area at high risk of encountering problems such as getting abducted," said Suk Dorji Yonzon, the Shompangkha Gup.
Besides ensuring safety, the bus service has helped students perform well in academics and attend school without fail.
Karma Wangdi
Edited by Phub Gyem