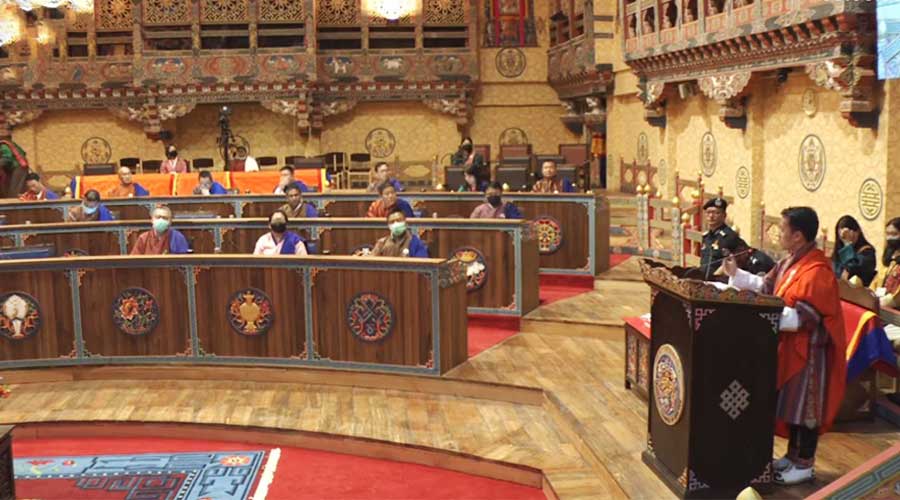 Deliberating the Royal Bhutan Police Amendment Bill 2021 today, the National Council members shared concerns on the new proposed section of making RBP equivalent to the Royal Bhutan Army and the Royal Body Guard. The Home and Cultural Affairs Minister introduced the Bill today.
The new section states that RBP shall be made equivalent as RBA and RBG in terms of rank structure, appointment, promotion and removal, positions and tenure and salary, allowances, benefits and other emoluments.
The Home Minister said the new section is intended to encourage the police personnel and improve their working conditions. The Minister added that the new section will repeal over 20 sections, most of which are related to salaries, allowances, and benefits among others.
The Minister further added that there is a need to bring about uniform rules and regulations among the armed forces in the country.
However, a few of the National Council members opposed the new proposed section.
"Many sections will be repealed. The issue is how convenient it will be for police to work within their institution. RBP has distinct responsibilities compared to RBG and RBA, therefore my concern is how will this be uniform if they all have the same entitlement?" said Lhatu, Trashigang MP.
"RBP will be entitled to the same benefits as RBG and RBA under the new section. What if the RBG and RBA's benefits alter in the future? The issue is because it will be an Act, would RBP benefits also change? So, when discussing the bill, we should make it clear that if something like this happens, it will not affect RBP," said Ugyen Namgay, Haa MP.
"Even if there is a downside, we must consider the full picture. When there is a change, the institution should make an effort. There will be some disadvantages for police personnel, but I believe they will be able to overcome them. When something good happens, they will undoubtedly meet a challenge," said Ugyen Dorji, Home and Cultural Affairs Minister.
The deliberation on the bill will continue next week.
Meanwhile, the house also deliberated on the follow-up reports on the resolutions of the last session.
Pema Seldon Tshering