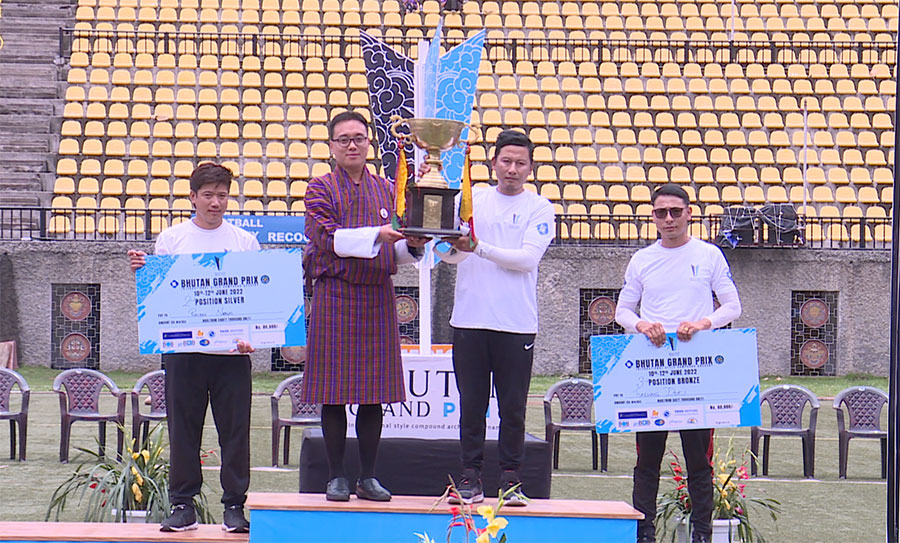 Tandin Dorji from Paro is crowned the Champion of the first-ever Bhutan Grand Prix archery tournament held in Thimphu. The 36-year-old defeated Rinchen Namgay from Trongsa by 10 points in the finals played at Changlimethang, today.
Tandin Dorji, an employee of the Bhutan Insurance Limited started practising and playing on the compound bow in 2004. With over 18 years of experience, he also has notable international achievements. He is a silver medalist in the 13th South Asian Games 2019 and is also a two-time winner of the ISPS Handa Cup in Japan in 2017 and 2019.
At the Bhutan Grand Prix tournament, he consistently maintained his position in the 1st Rank throughout the three-day International Style Compound Archery Competition. In the first Individual elimination round, Tandin Dorji advanced to the finals with a total score of 142 points from 150 available points, defeating Tshewang Dorji.
Meanwhile, Rinchen Namgay defeated Khendrup in the semi-finals to progress to the finals. Although he managed to tie the game in sets 1 and 3, Tandin Dorji dictated the rest of the sets.
"I am very happy I won the first Grand Prix. I started practising in 2007 but I could not train well because I had to go to the office and work. And for this, I have practised about a month and that also before and after office only. For the Asian games, the preparation that we do here is very less compared to other countries. But, I plan on working hard and training before and after office well," said Tandin.
The winners were also awarded cash prizes. While the 1st edition of the Bhutan Grand Prix came to an end today, it is just the start for the top eight archers who will again train and compete to reserve a spot in the top four to represent Bhutan at the 19th Asian Games.
Tshering Dendup