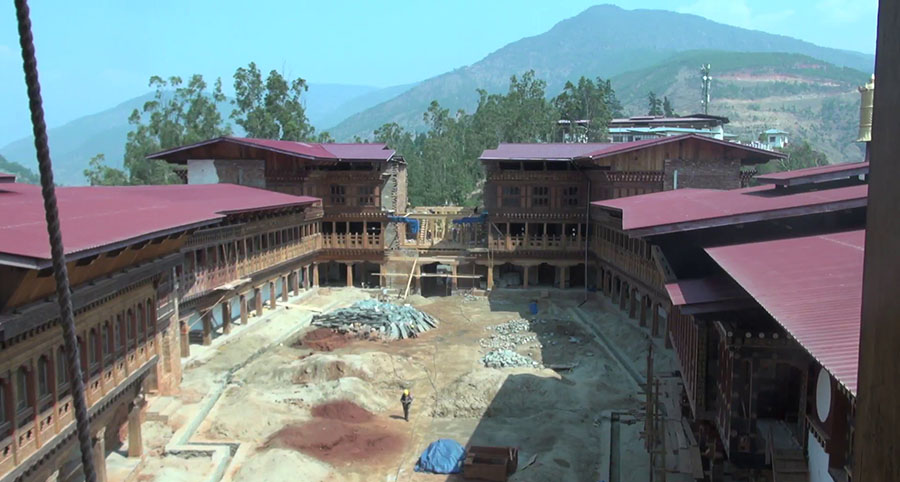 Wangdue Phodrang Dzong will rise from the ashes to its former grandeur in the next five months. The Dzong reconstruction works were scheduled to be complete by June this year. But the COVID situation in the district hampered the progress delaying the works by two months. More than 90 per cent of the construction is complete.
The construction works are now in the final phase. The workers are currently wrapping up the construction of the main entrance of the Dzong and its two overhead temples. Project officials said these works would have been completed by this time had the work progress not been affected by the current pandemic situation.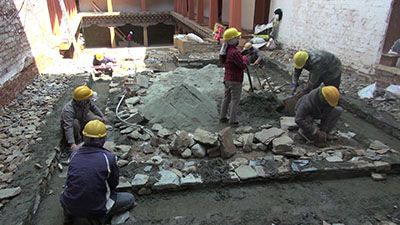 The construction of drains and washrooms, and the laying of stone slabs in the courtyard are in full swing. The project director said the works got delayed as around 50 workers who stayed outside the project campus could not return for work due to the current COVID situation in the district. Currently, there are around 200 workers at the site working in containment mode.
"We had to remain in lockdown for almost a month due to the COVID outbreak in Wangdue Phodrang. This has hampered the work progress. Therefore, we could not carry out the works as planned and it got further stretched," said Kinley Wangchuk, project director.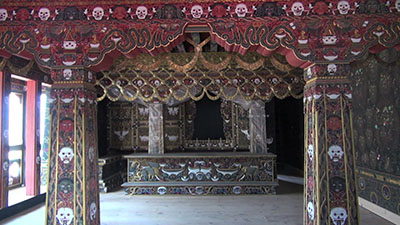 Likewise, works inside the Dzong including painting in the Lhakhang are also ongoing.
"We have 21 Lhakhangs inside the Dzong where we have to carry out works including painting of walls and altars. So, these works are taking some time but we are hopeful of completing the works by August," said the project director.
The project is spending nearly Nu 300 M to buy relics for the Lhakhang inside the Dzong. The public donated almost half the amount for relics.
The new Dzong will have firefighting equipment including water tanks and pumps, fire alarms and an underground tunnel inside the Dzong.
The Dzong is being reconstructed with a budget of Nu 1bn and traditional architectural design is intact. The reconstruction project began in January 2014 after the old Dzong was destroyed by fire in June 2012.
Changa Dorji, Wangdue Phodrang