Mygrow's app boosts employee wellbeing and resilience
Mygrow is a company championing emotionally smarter companies and people. Through an interactive interface, video-based micro-learning and personalised coaching, it aims to help millions "develop resilience, grit, emotional agility and optimism" at home and at work.
It's making good strides. Business leaders who've had the Mygrow experience say it does wonders for company culture. It helps improve company communication, boosts interpersonal understanding and resets people's negative trains of thought.

The Mygrow staff at their Cape Town office. Image: Mygrow.
WHO AND WHAT IS MYGROW?
It's an edutech company in Diep River, Cape Town, that offers businesses and individuals an app-based program to develop, measure and track EQ.
Think of it as an online gym membership: every day you "work out" your EQ so that you can develop better coping mechanisms for the workplace and home environment.
It's a subscription service that unlocks video-based micro-learning, personalised coaching with trained psychologists, neuroscience techniques that facilitate behavioural change, and rich data displayed via live dashboards that track your growth daily.

Mygrow executive team (from left): Alain Joffe, Theran Knighton-Fitt and Mark Baker. Image: Mygrow.
WHY MYGROW WON BEST HR TECH STARTUP
Mygrow is scaling innovative solutions for the societal problems of tomorrow. Like the organisational problems that we are starting to see being entrenched because of the effects of Covid-19, where employee mental health and wellbeing problems are being exacerbated by Zoom fatigue and the blurring of work/home boundaries.
Developing our EQ gives you a fighting chance of keeping emotionally fit. This is the sort of impact that's helped MyGrow win the Best HR Tech Start Up at the prestigious African Excellence Awards in 2021.
Mygrow's staff work hard at making the online self-development videos, designed to give people the tools to navigate the challenges of this ever-changing world, engaging and accessible.
ALL RELATIONSHIPS BENEFIT (AT HOME, TOO)
While Mygrow's methods do wonders for company culture, the learnings also extend to people's personal lives. One user said it helped save her marriage, another said he became a better listener to his partner, and still another said it helped him improve as a parent.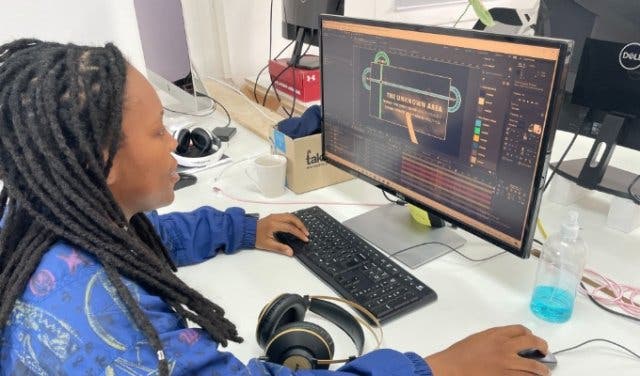 Anelissa Nkanyuza animating a Mygrow EQ video for online upload. Image: Justin Nurse.
In the interpersonal module, parents are encouraged to offer their children praise as one of the daily tasks. Said one parent, "The kids love it so much they say 'Dad, it's Mygrow time!' and stand there grinning from ear to ear, waiting for praise."
IT HELPS YOU FEEL GROUNDED
Individual users attest to the "grounding experience at the end of each day" when they use app, while couples enjoy the competitive nature of the leaderboard, which measures users against each other.
The interactive interface allows you to choose the growth areas you'd like to focus on, and then practice and measure them daily. The competitive element that charts your personal growth in relation to other users has proven to be a resounding success and great motivator.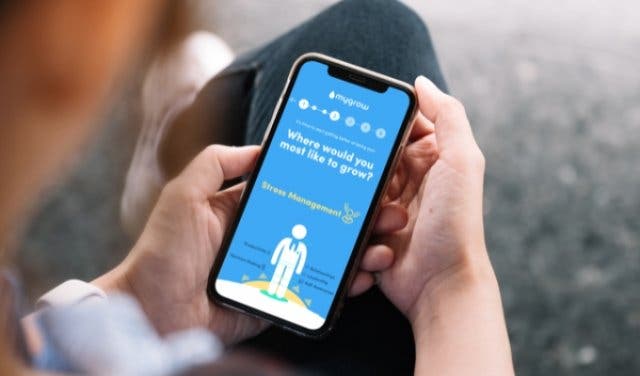 Mygrow's app means the power of self-development is in your hands. Image: Mygrow.
REWIRE YOUR BRAIN FOR THE BETTER
Mygrow is at the forefront of educational technology that takes the neuroscience of emotional growth seriously. The tools help to rewire your brain in order to shift behaviour and maximise personal growth.
The genius of the proprietary Growth Score algorithm boosts emotional intelligence in everyday ways that allow you to get better at being you. For instance, the goal is to add "droplets" to your bucket of emotional skills, so to speak. Each droplet takes about 15 minutes, in which you complete tasks such as answering EQ-related questions. So whether you're a staffer or a single parent, you can track your EQ development daily.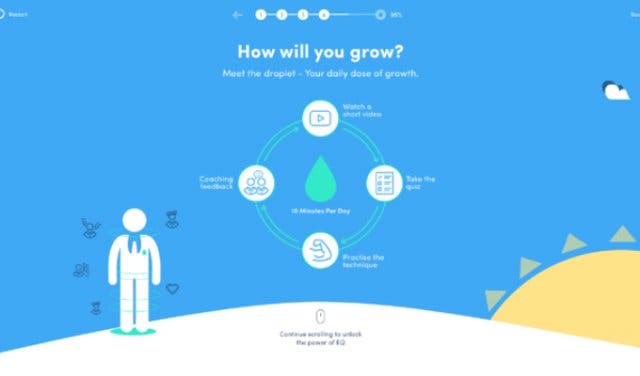 How will you grow? Participants have daily challenges online. Image: Mygrow.
"Along with the technology, we have a human in the loop," says Theran. "These are certified EQ technique coaches that help users do the EQ development techniques correctly." Coaches are crowdsourced online from around the world.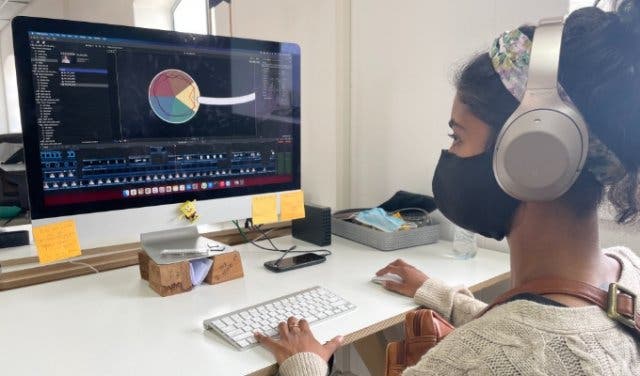 Video compositor Melissa Bolton developing some of the visual tools. Image: Justin Nurse.
MYGROW HAS GROWN THROUGH CHALLENGES
Like all startups, MyGrow has had their fair share or challenges. As a company, they take a creative approach to solutions. For instance, when the team needed to work remotely because of the pandemic, they offered staff work-hour flexibility to foster long-term emotional wellbeing.
And when money for salaries dried up, the Mygrow founders offered employees the chance to voluntarily defer their salaries as an investment into the company. The result was that there were no staff retrenchments during the pandemic, and team morale is at an all-time high.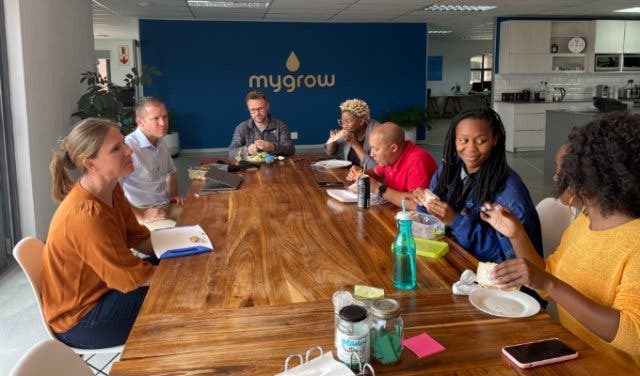 Mygrow staff enjoying their regular lunch break as a team. Image: Justin Nurse.
PASSIONATE ABOUT TRANSFORMATION
MyGrow's biggest challenge now, says Theran, "is getting people to take neuroscience seriously, and we invest a lot of our time educating people on how to do it well."
To meet their "insatiable desire to improve the world and the state of human relationships in it" and scale their business to reach millions, they are going to need more and much-better film equipment.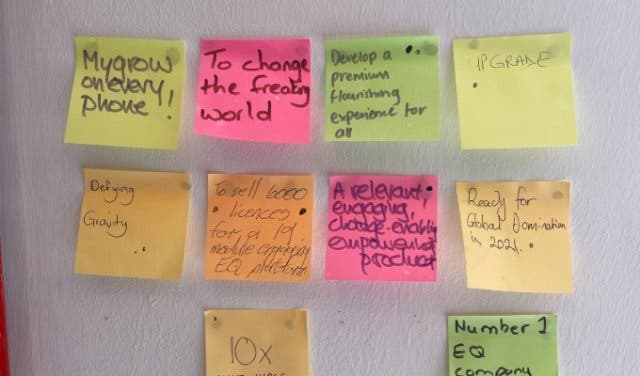 Office Post-It notes listing Mygrow's ambitions. Image: Justin Nurse.
"We are currently using cameras that are 10 years old, without all the bells and whistles that would help us make videos that are compelling in the current Netflix age."
"New gear would help MyGrow get the kind of footage we need to make emotional-growth attractive and compelling." says Theran. New equipment can produce video and content that can help Mygrow change lives: bring down divorce rates, empower business leaders and scale back the high rate of anxiety, stress and depression
Article by Justin Nurse.
HOW TO ACCESS THE SERVICES OF MYGROW

Mygrow offers a 7-day free trial if you would like to learn more.
It is also offering a free Mental Health Awareness Month series.
Mygrow is a featured business in the Small Business Spotlight, a CapeTownMagazine.com and Lulalend initiative to help boost small businesses.
From now till the end of October, you can nominate an SME braving it in business in our Small Business Spotlight Initiative. Nominate as many as you like, from anywhere in the country, even nominate your own.
NOTE: One nomination per business please. It's not the quantity (number of nominations) that advance your nomination, it is what you tell us about its impact. Like Fix Forward, the platform and development programme that's helped 300 small-scale contractors. Or Jacoline Tshepo, co-owners Phalane, co-owners of Jacoline S. Designs. Or Trevor Harker, the motorbike maintenance and repairman with the magic touch. Growing Paper, the 'seed paper people' from Malmesbury, is another story worth celebrating.
LULALEND IS HELPING SMALL BUSINESSES GROW
Read more about how our partner Lulalend, who provides fast and easy access to funding to SMEs, is helping small business owners, as well as check how much funding you may qualify for by viewing their business funding calculator.
---