A taxi driver, whose car was stolen after he used cocaine and fell asleep at a "drug yard" on the East Bank of Demerara, has been arrested for faking his kidnapping.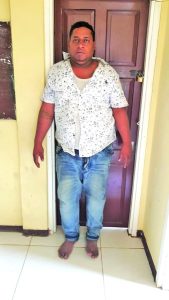 Keshan Bhola who faked his kidnapping
Keshan Bhola, a 30-year-old taxi driver of Section C Block Y Golden Grove, EBD, is said to be a habitual cocaine user, the Police said. They added that he would often visit the "drug yard" located at Grove, EBD.
According to the Police, the man went to the Madewini Police Station at about 07:00h on Friday, where he reported that he was abducted and robbed of his motor car, HD 2794, by two males and a female on Sunday, May 29.
However, during an interview conducted by investigators, Bhola recanted his false report to the Police.
"…he claimed that he went to a 'gamble shop' in Grove with his motor car #HD 2794 where he used cocaine, and drank beers then fell asleep with the sensor (key) on his pants waist. When he finally woke up, he realised that the sensor (key) for his car was missing, as well as his vehicle," a Police report detailed.
Bhola further told investigators that he asked around and was told that the shop owner and another male, who is known to him by being in the said "drug yard", were the ones who removed the car key and vehicle.
However, further investigations were conducted on Friday during which Bhola revealed that he conspired with another person to concoct the kidnapping story.
"On Sunday 29, May 2022 at about 22:00 hours, Bhola said he went to the drugs yard and used cocaine which led him to conspire with a 45-year-old vendor of Grove," the Police said.
Detectives contacted the vendor in question, who was arrested and interviewed at CID Headquarters, and it was revealed that he sold the car to a named individual, who is currently being pursued by the Police.
This individual has not been located as yet but Police are said to be closing in on him as investigations continue.
This is the fifth case of fake kidnapping within the past three months. The most recent case occurred last month, where a 23-year-old taxi driver faked his kidnapping to allegedly pay for a quantity of ganja he had abandoned.
The man had reportedly run away from cops in Region Five (Mahaica-Berbice) and abandoned his car which contained a large amount of marijuana. The incident occurred on April 22.
At the time the cannabis was found, the man was allegedly transporting the drug for another person. The man's vehicle was stopped and searched by Police ranks and the drug was discovered.
Upon seeing this, the man buckled from the scene and the Police said, "the person he was transporting the cannabis for demanded that he (the taxi driver) paid him $1 million for his losses".
This caused the taxi driver to allegedly conspire with others to fake his kidnapping.
It was also reported that the man's 21-year-old fiancée went to the Police and reported that her partner left home to drop off a passenger in Georgetown. The passenger, Police said, is known to her.
The woman said she called her fiancé and he told her that he was at Weldaad, West Coast Berbice, and had to turn back to make a pick up at Bath Settlement. That was the last she heard from him.
Sometime later her landline phone rang and a male voice at the other end told her that he had narcotics in her fiancé's car and he wanted $1 million for it. She said she was also threatened that if she did not pay the money, "she will find his body at the road corner".
She later checked her phone and saw a number of photographs of her fiancé on a bed with his hands and feet tied up with a yellow rope. The photos were sent to her from her fiancé's phone.
She also received some text messages demanding $500,000. She told investigators she was also warned against making contact with the Police or it would be worse.
It is still unclear if the man was ever caught and arrested by Police.