…Jamaica and Barbados on a roll with two wins
Having been defeated by Barbados in the opening round, and having their second-round game against Trinidad rained out, Guyana will be coming up against Jamaica – a team that has won both of its matches – in a must-win clash today at the National Stadium at Providence, EBD.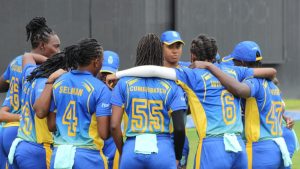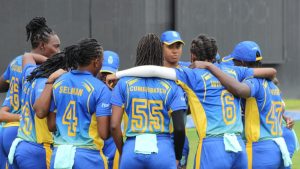 Barbados will be aiming to continue their winning ways
The Guyanese would hope the rain stays away and their batting would click, to stop the Jamaicans from winning three matches in a row.
Meanwhile, Barbados looked a dominant force in their second match, after showing some rust in their opening match against Guyana. Hayley Matthews was at her all-round best with three wickets and 23 not out in Barbados's big win over the Leeward Islands.
Shemaine Campbelle is key for the Guyana batting, and Jamaica would want to remove her early
After that second-round match, Matthews has said: "We were hoping to win the toss, which we did; and then go out there and bowl them out quickly, which we also did. And then I think it was pretty good from the batters, we were able to go out there and knock off the runs quickly.
"Picking up early wickets was key. With Bruce from one end and (Shamilia) Connell from the other end, we were able to keep things tight. It was good that we were able to get the wickets before the 20 overs were up, and then get the runs."
Jamaica have maintained their unbeaten start to the tournament in a low-scoring 25-run victory over the Windward Islands in the last match of the day, under the lights on Thursday. Playing in her first CWI T20 Blaze tournament, 18-year-old Jannillea Glasgow was brilliant with the new ball, grabbing 4-21 off 3.3 overs, as Jamaica were bowled out for 91 within the allotted 20 overs. Jamaica's collective bowling effort then restricted Windwards to 64 all out.
Captain Stafanie Taylor said: "We want to win, that's the aim; but if it's not to be, we want to put up a good fight, and I can see that we are indeed hungry and giving it our all. It's really good to see the young bowlers coming through.
"(Last match,) Gabbie (Neisha-Ann Waisome) got five wickets, and tonight Morgan got three, so the young bowlers are chipping in, and that's a good sign for any captain," she said.
Match Schedule: Round 3- Saturday June 11 (All matches in Eastern Caribbean time)
Barbados vs Windward Islands at 10am

Leeward Islands vs Trinidad & Tobago at 7pm