When the A-League season was suspended in late March, Sydney FC defender Ben Warland thought he must be cursed.
After missing the bulk of the 2018-19 season due to a broken foot, Warland ruptured his ACL shortly after his comeback in March last year and had only just returned to full training after his knee reconstruction before the league was indefinitely postponed due to the COVID-19 pandemic.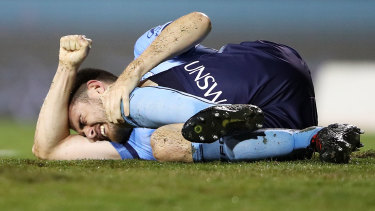 Ben Warland after rupturing his ACL in March 2019.Credit:Getty
The news of the suspension left Warland fearing the 2019-20 campaign would be another write-off. It was a bitter pill to swallow.
"I thought what else could go wrong?" he said. "Broken foot, came back and then did my ACL, which is one of the worst injuries you can have."
However, the timing of the resumption has proven to be a blessing in disguise for the centre-back, who is now a chance of playing A-League football this season having had the benefit of three more months of conditioning.
Warland back at training last month.Credit:Getty
"Actually there was a positive to come out of lockdown," he said. "The three months off gave my knee a lot more time to heal and speed up the process of getting back."
Sydney FC resume their season next week, facing Wellington Phoenix on Friday in the first of six games in less than four weeks before the finals begin. It's one of the heaviest schedules of any team in the league, but one that will give Warland the chance to do what seemed impossible a few months ago.
"Obviously we have a heavy schedule; we have maybe the most games to finish the season, we have six plus finals," he said. "We are playing a couple of games a week. A few of the boys will be sore after three months off. That gives the fringe players and younger boys the opportunity to get a game, impress and get the coaches on your side. It's been good for me."
Warland's time away from the field has forced him to strengthen other areas of his game. He has improved his overall strength with more gym sessions and sharpened his mental approach to football and the tactics of his role.
"The ACL injury developed my body," he said. "I had time to work on different aspects of my game and get better physically. I feel I am running better and much stronger physically than before my ACL injury."
Loading
The year's absence has given Warland plenty of time to study the game. He spent countless training sessions as little more than an onlooker, but his stint on the sidelines gave him the opportunity to study one of the league's most consistent defenders, Alex Wilkinson.
"I was watching a lot of Wilko," Warland said. "He's a great professional, the way he trains, he does everything right. No sloppy passes, no mistakes, he doesn't do anything wrong. I try to replicate that in my own training. It's bloody hard to do but you've got to do it if you want be a player like Wilko."
After two years of rotten luck, the season delay will give Warland the chance to show why Sydney FC believe he could one day replace Wilkinson.