The corporate watchdog's deputy chair Daniel Crennan has resigned after it emerged he claimed nearly $70,000 from taxpayers to cover rent.
Treasurer Josh Frydenberg has ordered a review of the housing expenses and a tax bill of almost $120,000 for Australian Securities and Investments Commission chairman James Shipton after the audit office raised concerns about the payments.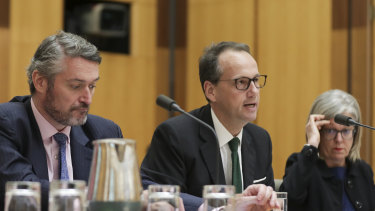 Daniel Crennan and James Shipton from the Australian Securities and Investments Commission.Credit:Alex Ellinghausen
Mr Crennan said in a statement on Monday that the review was likely to take some time and, in the best interests of ASIC, he would resign immediately. He had intended to retire in the middle of 2021.
Mr Shipton stood aside from his position on Friday.
Mr Crennan said he had agreed to a request from Mr Shipton in October 2018 that he move from Melbourne to Sydney "because of the higher number of commissioners in Melbourne".
Loading
"ASIC agreed to pay me a relocation package which included a rental allowance. I was told the payment of this allowance was consistent with ASIC policy," he said.
"In September 2020 and early October 2020, I was told of external advice about, and the Australian National Audit Office's (ANAO) present position concerning, the rental allowance being paid to me. I requested that ASIC cease paying me the rental allowance.
"I also offered and agreed to repay the rental allowance ASIC had paid to me."
Mr Shipton has also agreed to repay the $118,557 he claimed for his taxation expenses.
More to come.