Victorian Premier Daniel Andrews had hit back at accusations his government has contributed to the current energy price surges by refusing to support gas projects in the state.
Federal deputy Liberal leader Sussan Ley and former Liberal minister Ian Macfarlane both used morning media spots to make the claims amid questions as to why the Coalition didn't do more on energy policies during its nine-year period in government.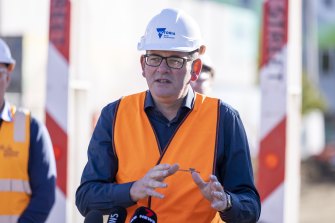 Victorian Premier Daniel Andrews.Credit:Wayne Taylor
"That is manifestly wrong. There are some people that want to frack-up the joint across the whole state," Andrews said on Thursday when asked about Ley's claim.
"That's not us. We said we wouldn't do that and we are not doing it.
"We will not be fracking our prime agricultural land. As someone who represents a regional community, I thought she would probably support that but perhaps she has a different view.
"If you want to know about these matters, with the greatest of respect, I wouldn't ask the deputy leader of the Liberal Party but ask AEMO, the energy market operator, as they tell a very different story."