Joseph Suaalii looks at Daniel Tupou, in an upward direction, trying to work out if he was still in primary school when the towering winger made his NSW Origin debut.
"I would have been 11 or 12, and I only said to him a couple of weeks ago how I used to watch him when I was younger," Suaalii said. "It's pretty cool to see him back on the Origin area. He's one of the best wingers in the game - he's one of the most under-rated players in the game - and it's good to see him back where he belongs."
For the trivia buffs, Tupou is one of just three players from the 2014 Blues side that ended Queensland's eight-year Origin reign are still playing in the NRL.
When asked if he could name the other two, Tupou had to stop and think himself, before coming up with Wests Tigers prop James Tamou and St George Illawarra's Aaron Woods.
"Thanks for reminding me how old I am," Tupou grinned.
Some of the 2014 NSW alumni went on to make their own off-field headlines, including Jarryd Hayne, Michael Jennings, Josh Dugan, Greg Bird and Tony Williams. James McManus and Boyd Cordner had their careers finished by concussion, Anthony Watmough was medically retired, while Josh Reynolds' tumultuous split with ex-partner Arabella Del Busso was the subject of lurid headlines in the media before he resurrected his career in England.
Tupou played in all three Origin games in 2013, was dropped after game one in 2014 and returned to play in the 2020 losing series, only to be bob up again ahead of next Wednesday's opener.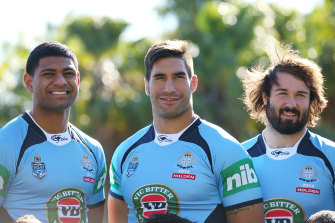 Class of 2014: Daniel Tupou with James Tamou and Aaron Woods.Credit:Getty
Tamou and Woods were not surprised the unheralded Sydney Rooster was still on the biggest stage eight years on.
"That was his [second] Origin series," Tamou said. "He was quiet, I'm tipping he's still quiet now, but you knew what you would get from him.
"After all this time, I'm 99 per cent sure he is on every team's tip sheet when he brings the ball back. He is so hard to handle, he's strong, gets teams' sets going, and he's a good finisher. NSW have made the right decision there [with Tupou's inclusion]"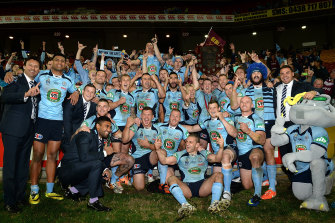 NSW celebrate their first series win over Queensland in nine years.Credit:Getty
Woods recalled Tupou being "joined at the hip" with Roosters teammate Jennings, and seeing "a different Daniel Tupou" during one of the bonding nights.
"You will never hear anyone say a bad word about 'Toops'," Woods said. "The only time I could think about saying something bad about him was when he used to score a hat-trick of tries against the Wests Tigers - he always used to carve-up against the Tigers when I was there.
"I love the bloke. He is quiet, but very smart, and someone who puts himself in the right situations all the time because he studies the game. He also never wanted any accolades. He scored a try in Origin and I remember going, 'Yeah bra, c'mon man', but he gave us nothing."
Loading
Tupou said there were a lot of "old-school players" during his maiden Origin series, and the "brotherhood" he created with Jennings was a highlight.
"I feel blessed and fortunate to be a part of this side now, I'm inspired by all these younger players coming through, and it makes me want to be a better player for them," Tupou said.
"I feel like I'm a bit more out there, I was in my shell eight years ago, but I'm a bit more confident with how I hold myself and the way I play. I want to keep enjoying the journey."
Roosters favourite Craig Wing, who popped up at NSW training on Thursday, has always been a fan of Tupou, and could relate to being back into the Blues' fold after a few years off.
"What you see is what you get with him, he's so consistent and has such a valuable skill set," Wing said.
"I remember playing Origin up until 2006, then coming back into it in 2009. You get another opportunity, you appreciate it a bit more, you're less stressed and saviour the opportunity more. I'm sure he will play really well again next Wednesday."
Watch the State of Origin exclusively live and free on Channel 9 and 9Now.