Loading
Tom Banks is hopeful he can still play a role for the Wallabies in July's Test series against England - and possibly beyond - despite accepting an offer in Japanese rugby that will see him leave Australia at the end of the year.
Banks opened up on his decision to take up an eye-popping two-year contract with a Top League club, which sources say is worth $1.4 million a season. The club is yet to announce the deal.
It was a call that no one in Australian rugby begrudged, given the money offered to Banks to stay was around $1m per season less.
But it came at a significant cost, nonetheless, with the 20-Test Wallaby now likely to miss out on his first Rugby World Cup next year, a tournament he would have definitely played in.
Ahead of his final game in Canberra on Saturday night, the Brumbies fullback said his advancing years and a desire to experience new footballing cultures convinced him "the time was right" to leave the ACT.
"I would be lying if I said it was an easy decision," Banks told the Herald.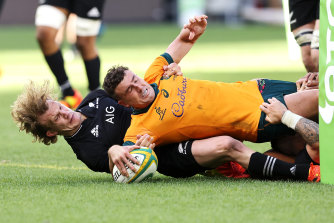 Tom Banks scores against the All Blacks last year.Credit:Getty
"But I had [a] good support network around me to help make the call, and I feel like it is the right time.
"I am not 21 any more, and you only have a short time in rugby. It is a chance to experience something else. I have been in Canberra now for six years and I haven't really experienced any other type of footy.
"Even though I have absolutely loved it here, you only have a short time in footy to experience other things, so when the opportunity came to go, it was tough. It was one of the toughest decisions I have ever had to make. I had to weigh up everything.
"It was really tough but I am happy, and I think I have made the right decision."
Banks, who turns 28 this month, had long conversations with trusted ex-players, outgoing Brumbies coach Dan McKellar, incoming Brumbies coach Stephen Larkham and even Wallabies coach Dave Rennie.
"It was a long process and I am glad I took my time, you don't want to rush a decision like that," Banks said.
Some Wallabies coaches have put departing players like Banks in the freezer after announcing an overseas move, figuring the selection is better used to plug Test experience into a player who will be on deck for the next World Cup.
But a lack of clear-cut alternatives to fill the Wallabies' No.15 jersey means the speedy Brumby is likely to play a starting role against the English, and possibly in The Rugby Championship as well.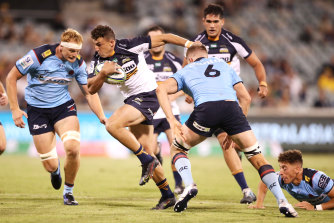 Tom Banks has played 84 Super Rugby games for the Brumbies.Credit:Getty
Banks said he had spoken with Rennie and he remained ready, willing and able to pull on the gold jersey for a 21st Test in July.
"Speaking to 'Rens' (Rennie), he was quite upbeat about this year and what that looks like," Banks said.
"Obviously we have a couple of massive weeks coming up at the Brums, which has my sole focus right now. But yeah, moving forward, if I was lucky enough to get picked for that England series, I would be more than keen and excited to play in that."
With only three Giteau Law picks, Banks currently wouldn't be a strong chance of playing at the 2023 Rugby World Cup in France. But he said he would always be available.
"That's my thought process around that - obviously I will go over there, and continue to grow my game," Banks said.
"And if the opportunity came to come back and play for Australia, I'd jump at it. Obviously, I know that's going to be tough, there is a lot of talent in Australia and overseas, but I will just be doing all I can and leave it up to the coaches."
A quarter-final against the Hurricanes at GIO Stadium on Saturday night is Banks' singular priority, however, and the Brumbies are planning a farewell to departing players, which will also include Scott Sio and Irae Simone.
Loading
After emerging through the ranks in Brisbane and making his Super Rugby debut for Queensland in 2015, Banks arrived in Canberra in 2017 and has played 84 games for the Brumbies.
"It is a pretty surreal feeling, to be honest. It is a place that has done so much for me, not only the field but off the field," Banks said.
"I have fallen in love with Canberra. The people, the place, everything about it. It is the best move I ever made to come down here. So to be playing my final home game, yeah, it's a weird feeling. But we have so much to play for this weekend."
Watch every match of the Super Rugby Pacific on the Home of Rugby, Stan Sport. Quarter Finals this week with Crusaders v Reds (Friday 4.30pm AEST), Chiefs v Waratahs (Saturday 2pm), Blues v Highlanders (Saturday 4.40pm) and Brumbies v Hurricanes (Saturday 7.15pm). All streaming ad-free, live and on demand only on Stan Sport.