China has joined as a co-sponsor to a vital motion at the World Health Assembly calling for an independent review into the handling of the coronavirus pandemic.
After weeks of high-stakes negotiations, accusations of a Washington-smear campaign and trade strikes on Australia, China's decision to co-sponsor the resolution means it will pass with full consensus at the meeting of the assembly on Tuesday night.
China had opposed Australia's calls for an independent global inquiry, but has now insisted the motion it will co-sponsor is vastly different to Canberra's position.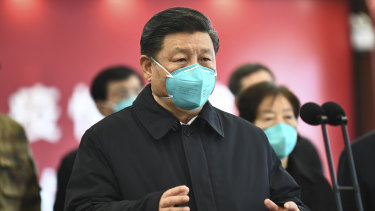 Chinese President Xi Jinping. Credit:Xinhua
The motion was originally put forward by the European Union, but after negotiations with a number of countries, including Australia, it was strengthened to explicitly state the review should be "impartial, independent and comprehensive". Australia lobbied the United States and the United Kingdom to join the resolution last week.
The final text of the key clause establishing an independent review is the same as a second draft published by the EU and backed by Australia on the weekend.
Australia's amendments to the EU motion focused on an independent and comprehensive evaluation at the earliest possible moment, with a particular emphasis on the WHO-coordinated international health response to COVID-19.
China's embassy in Canberra on Tuesday labelled Australia's attempts to claim credit for the imminent passage of the independent review "a joke".
China's Foreign Ministry has sought to emphasise the European Union's role in the motion in recent days.
"It is a totally different thing from the so-called independent inquiry pushed by the Australian side," China's Foreign Ministry spokesman Zhao Lijian said on Tuesday.
The Chinese Communist Party's international state media mouthpiece, The Global Times, said China's decision to back the inquiry was a hit to Australia. "This is a slap to the face to countries like Australia - the most active player in pushing forward a so-called independent probe into China over the coronavirus outbreak, which was then rejected by the international community," it said.
Loading
The simultaneous developments highlight the deteriorating relations between Australia and its largest trading partner ahead of the final vote at the World Health Organisation's governing body on Tuesday night.
Despite the US and China co-sponsoring the bill, tensions between the two superpowers are likely to increase further in the wake of the pandemic.
On the eve of the virtual debate, US President Donald Trump threatened to withdraw World Health Organisation funding permanently after suspending US contributions in April over the WHO's handling of the coronavirus.
Mr Trump accused the World Health Organisation of an "alarming lack of independence" from China after alleging it ignored credible reports of the virus spreading in December 2019, made misleading claims about human-to-human transmission and repeatedly praised China for its transparency.
Anthony is foreign affairs and national security correspondent for The Sydney Morning Herald and The Age.
Eryk Bagshaw is an economics correspondent for The Sydney Morning Herald and The Age, based at Parliament House in Canberra
Loading