Loading
Hagger was a star performer in his first appearance at the royal commission but had a bruising experience in his second when he was hammered over the "fees for no service'' issue.
While he is credited with a dramatic improvement in the performance and culture of NAB's wealth management businesses, including the $2.4 billion sale of 80 per cent of its life insurance business to Nippon Life, he didn't hide from the responsibility for the compliance failings within MLC during his tenure.
"I take accountability for what has occurred on my watch and accept that alongside successes were failures, including instances where we did not act with the pace required,'' he said.
Hagger and Cahill were, with former NSW premier Mike Baird (who had responsibility for corporate and institutional banking but will now take over the consumer role from Hagger), Bank of New Zealand CEO Angela Mentis and business and private banking head Anthony Healy, the group from within which Andrew Thorburn's successor as NAB CEO was expected to be drawn.
It's now a smaller group and arguably a less desirable job.
That probably holds true more broadly.
The royal commission is having a significant impact on the organisations it is targeting. AMP lost a chairperson, a CEO and most of its board because of the evidence presented to the commission. Commonwealth Bank lost its CEO, has purged its senior executive ranks and is "refreshing'' its board.
The general legacy of the commission, and of the desperate measures the federal government took in its fruitless attempt to avoid establishing it, are clear even before it has published its interim findings.
Institutional and individual reputations have been damaged, compliance; remediation costs and penalties have soared; accountabilities and liabilities – individual and corporate – have significantly increased.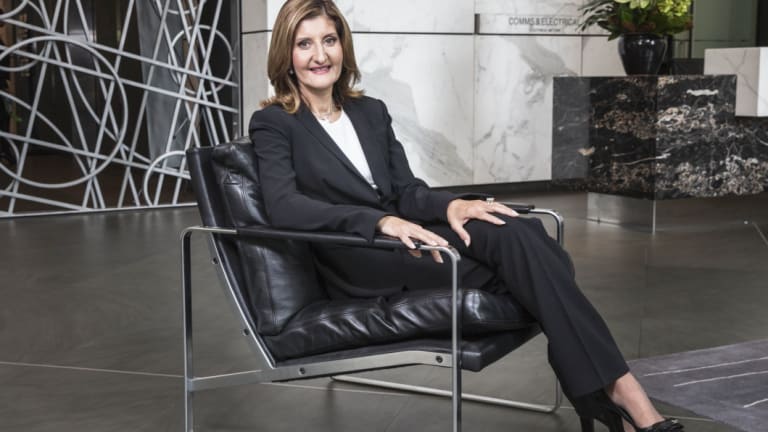 Angela Mentis is the chief executive of New Zealand Bank and a possible successor to Andrew Thorburn.

Photo: Jessica Hromas
There are years of painful and painstaking effort, and potentially billions of dollars of costs, to address the largely self-inflicted damage done to financial service franchises.
The majors, with the current exception of Westpac, are fleeing the wealth management space – where the worst of the misconduct occurred - as fast as they can, leaving them as smaller and less-diverse institutions even as the banking sector comes under increasing pressure.
Some of that pressure comes from the royal commission and an early spotlight on "responsible lending'' that has caused the banks to significantly tighten lending criteria.
With the earlier Australian Prudential Regulation Authority's "macro-prudential'' measures – the tightening of investment property and interest-only lending growth rates and credit quality – the banks' response to the commission and their regulators is significantly constricting access to credit, threatening a destructive credit "crunch''.
Loading
With wholesale funding markets becoming more expensive as global trade tensions rise and sliding house prices threaten to provide a turning point in what has been a remarkably benign credit cycle with historically low levels of loan losses, the outlook for banks and bankers isn't one that would engender great enthusiasm.
Then there's the BEAR – the Banking Executive Accountability Regime – that makes individual senior executives accountable and liable and puts large slabs of their remuneration at risk for conduct in their areas of responsibility, as well as whatever eventually flows from the royal commission recommendations.
For individuals, there's less upside and a lot of quite threatening downside in the outlook for financial services.
For the next few years, while trying to manage institutions within what could be a difficult and debilitating environment, the priorities will be on remedying and paying for the mistakes of the past and restoring trust and brands while avoiding personal risk and liability.
The riskier and more risk-averse outlook for the sector is therefore one where talented executives – and both Hagger and Cahill are regarded as very talented - are more likely to leave than join. That's not necessarily a positive development in an industry that is critical to national economic and social outcomes.