London: The last time the British economy contracted by 11 per cent, Captain Cook had still not been born.
On Tuesday night (AEDT) Chancellor Rishi Sunak, who has not even been in the job for 12 months, laid out the full historic context of the economic carnage caused by the coronavirus pandemic and the subsequent economic shutdowns in a speech which revealed the hit was unlike anything seen for 300 years.
Britain's Chancellor of the Exchequer Rishi Sunak delivers his one-year Spending Review in the House of Commons, in London.Credit:AP
They include an 11.3 per cent plunge in GDP in 2020, causing long-term economic scarring that would see 2.6 million people plunged into unemployment and the largest peacetime record in government borrowing, worth £394 billion ($706 billion), or 19 per cent of GDP.
Sunak said the economy's output would not return until it's pre-crisis levels until the end of 2022.
"And the economic damage is likely to be lasting," Sunak said.
"Long-term scarring means that in 2025 the economy will be around three per cent smaller than expected in the March budget," he told the Commons.
And those forecasts do not take into account the possibility of a No Deal Brexit with Britain and the EU still negotiating a future trade deal due to come into effect in just over a month.
The UK's economy has contracted and could stall further if there is a No Deal Brexit. The port of Dover.Credit:AP
The independent Office for Budget Responsibility (OBR) said leaving without a deal would add a further 2 per cent reduction in GDP.
Paul Johnson from the Institute for Fiscal Studies said higher taxes, although not announced today, were inevitable.
Loading
"It seems more likely than not that spending will end up significantly higher than set out today, and so borrowing in 2024-25 will be considerably more than the £100 billion forecast by the OBR.
"Either that or we are in for a pretty austere few years once again, or for some significant tax rises," he said.
Rain Newton-Smith an economist with the Confederation of British Industry warned: "Stark forecasts point to tough times ahead."
But he welcomed the spending plan outlined by the Chancellor, including a £4 billion fund to pay for local infrastructure projects, expected to be funnelled into the so-called red wall seats that the Tories claimed from Labor last year.
Sunak confirmed Britain would cut its contributions to foreign aid, from 0.7 per cent of its gross national income to 0.5 per cent, worth approximately £4 billion ($7.1 billion.)
Sunak said successful projects must be delivered by the next election and command the support of their local MP setting up clashes between Labour councils and newly elected Conservative MPs who won seats traditionally held by Labour in Boris Johnson's landslide win last year.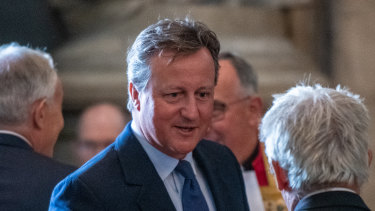 A "sad moment": Former Prime Minister David Cameron.Credit:Getty
Former Conservative Prime Minister David Cameron enshrined the 0.7 per cent commitment into legislation at the same time as maintaining an austerity budget to restore Britain's finances after the financial crisis.
He told Britain's Sky News that "it was a very sad moment."
Loading
"I totally understand, me above anyone, that we have to make difficult decisions but really it's saying that for every ten pounds the economy earns that we're going to put seven pence towards the poorest people.
"Is that really too much? I don't think it is. I think 0.7 per cent was a noble thing for this country to do.
"In this one case he is making a mistake ... we made a promise and I think we could afford to keep this promise," he said.
Cameron's former advisor Liz Sugg resigned as the development minister. "This promise should be kept in the tough time as well as the good," Sugg wrote in her resignation letter.
A string of other Conservative MPs and the Labour opposition condemned the cuts but it remained unclear if enough were opposed to stage a successful rebellion in changing the legislation.
"When the UK is struggling to redefine it's Global Britain' brand, emerging from a bruising negotiation with the EU, cutting the aid spend is a shameful retreat from the world stage," Australian-born Labour MP and shadow minister Catherine West told The Sydney Morning Herald and The Age.