A detective who investigated the alleged fraud of Guy Sebastian's former manager has told a court he was cleared to remain in charge of the case despite a potential conflict of interest arising from being "a loose friend" with Sebastian's best friend.
Titus Day, 49, is on trial in the NSW District Court accused of defrauding his long-time client of almost $900,000, including royalties and payments for destination weddings. He has pleaded not guilty to 50 counts of embezzlement and 50 alternative charges of larceny.
Detective Senior Constable David Murphy leaves court on Monday.Credit:Louie Douvis
On Monday, Detective Senior Constable David Murphy, who led the investigation, said he played cricket with Sebastian's friend Tim Freeburn and that's likely how the man obtained his mobile phone number to contact him.
The court previously heard Sebastian and Freeburn contacted Murphy directly to report the crime because the singer did not want to get photographed at a police station.
Murphy said he identified that there was a potential conflict of interest in the case and discussed the association with Freeburn with his inspector.
"I knew him from a long time ago," Murphy said. "[He is] a loose friend. I don't ring him up, I don't talk to him."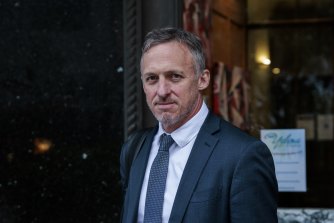 Titus Day leaves court last week.Credit:Brook Mitchell
Day's barrister Dominic Toomey, SC, asked Murphy if he delegated someone else to take a statement from Freeburn due to their connection. Murphy said he did not take the statement and did not delegate it either, with prosecutors ultimately telling him that they did not require it.
"Were you concerned he would say something that didn't assist Mr Sebastian?" Toomey said.
"No," Murphy said.
"Were you concerned if a statement was taken from him that might implicate you as having a conflict of interest in the case?" Toomey said.
"No," Murphy responded.
The detective said his inspector cleared him to remain officer in charge of the case after a detailed conversation in his office. He agreed that he did not report the conflict in writing, as he was required to do under NSW Police procedures.
Earlier on Monday, Sebastian was briefly recalled to give evidence about a series of text messages he sent to another witness on the evening of May 23, when he was in the middle of being cross-examined.
Last week, Christian Bugno told the court that he had booked Sebastian for his Venice wedding in 2016 when he revealed that Sebastian had contacted him recently.
Loading
Bugno then held up his phone to the court, showing messages which included Sebastian saying on May 23: "Brother sorry but this is so urgent cause I'm in court. Is there any way you could find out who paid for Titus flight to Venice?"
On Monday, Sebastian was asked if he believed he had breached the direction by the judge that he should not discuss his evidence with anyone. On that evening he had been given an exemption that allowed him to speak to the Crown.
"Everything I did was by the book," Sebastian said.
He said he was presented with an "incorrect invoice" in court and knew Bugno would have the records of paying for the flights, so he thought it obvious to ask him.
"I said to the Crown 'I know I can text him directly, I know Mr Day didn't pay for the flights', so I got the information that I know they would need, not just my word for it," Sebastian said.
The trial continues.
with AAP
Our Breaking News Alert will notify you of significant breaking news when it happens. Get it here.