How's this for a COVID-related headache? Employees at News Corp's Holt Street bunker in Surry Hills who have been slowly trickling back into the office received an update this week from management regarding who can work in the office - and who cannot.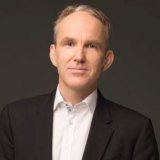 The Australian's editor-in-chief Chris Dore.
Given Potts Point has been designated as a so-called COVID-19 hotspot by NSW Health, News Corp employees who live in the locale have been encouraged to work from home. News Corp isn't the only media company to issue such a directive.
Which is fine, presumably, for most of the staff but more problematic for some at the top of the tree, including The Australian editor-in-chief Chris Dore who is a resident of Potts Point.
A company spokesman said Dore and the team had been producing the paper remotely for "months" since the start of the pandemic and that this week's directive wasn't much of a change to the status quo. Others coming into the office who had grown accustomed to seeing their boss each day were more surprised, however, when they learned that he wouldn't be coming in.
"We've erred on the side of caution," the spokesman said.
A good move too.
CHANGING THE COURSE
In the events world, the $65 million question remains: what will become of the Melbourne Cup.
Marquee sponsor James Kennedy from watch retailer Kennedy - the empire that started out of Double Bay's LK Jewellery - says his multimillion-dollar sponsorship remains in place for the Spring Carnival. Sources close to event host the Victoria Racing Club say its partnerships team is working overtime to negotiate the operation of a carnival likely to take place without, er, crowds.
Hoping for a glass half-full approach... Credit:Matt Golding
"Kennedy and the Victoria Racing Club announced a new agreement last November which extended Kennedy as naming rights sponsor of Oaks Day until 2023. There is no change to that," Kennedy said on Tuesday.
And what of the Bird Cage? After all, Kennedy spent more than $1 million on its luxury pavilion at last year's Spring Carnival.
"The Birdcage is far from all our thinking," he said. "I'm sure all decisions on the future of the Spring Carnival will be made with the health and safety of the Victorian community as the number one priority.''
Fair enough. Melbourne has bigger things to worry about. But the fixture does remain an important financial consideration for the VRC.
The club, still chaired by the indomitable Amanda Elliott, produced a profit of just over $600,000 in 2019 from annual revenues of about $200 million, including $65 million in revenues from catering, hospitality and events - the lion's share brought in during Spring Carnival. Another $33 million came in from broadcast and sponsorship rights, while membership fees generated another $22 million. A monumental investment in a $120 million space-age inspired grandstand in 2017 has left the club with about $70 million in debt. That bill so far is covered by a facility agreement with ANZ Bank, secured against land owned by the club, and another $10 million borrowed from Racing Victoria.
SCRAP THOSE PLANS
The COVID-19 event cancellation whitewash continues across two states.
Gerard Henderson's mob at the Sydney Institute had sold tickets for the think tank's annual dinner scheduled for May. Henderson and wife Anne postponed the event for a future, unspecified date, just over a month before it was meant to go ahead.
The problem for some people who bought tickets and want their money back is that they are yet to receive a refund. The dinner and lecture, which attracts close to 1000 paying guests, used to be one the more sought-after invitations on the calendar (former prime minister John Howard headlined the bash in 2019 while Premier Gladys Berejiklian did the honours the year before). Hendo's plan is to hold the event some time in the future.
This year tables for non-members were priced at more than $4500. Henderson did not respond to emailed questions about when people could expect to get their money back.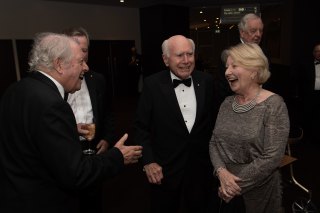 John and Janette Howard arrive at the Sydney Institute dinner in 2019.Credit:Wolter Peeters
Other groups with events planned for later in the year haven't even been able to sell tickets in the first place. The Sue Morphet-led corporate women's outfit, Chief Executive Women, has had to scrap its major money spinner planned for November out of caution due to the pandemic. There's a lot riding on the high-profile annual dinner each year, given it reliably draws close to 1000 guests and raises more than $1 million for the professional group each year through sponsorship and fundraising on the night.
IN THE FREE PILE
Labor frontbencher Jason Clare has come a long way since his days at Cabramatta Primary School but it's good to see the Blaxland MP still wearing his western Sydney stripes on his sleeve. Well, merch from the 'hood in any case, according to his latest gift haul.
Last month, he received a jacket and cap from local Bankstown RSL watering hole, with an RRP of $40. Not bad. And in a separate haul he received a gift box from YouTube. Contents: a towel, a cup and curry paste, valued - incredibly - at $40. Intriguing.
Samantha is the The Age's CBD columnist. She recently covered Victorian and NSW politics and business for News Corp, and previously worked for the Australian Financial Review.
Stephen Brook is CBD columnist for The Age. He is a former features editor and media editor at The Australian, where he wrote the Media Diary column and hosted the Behind The Media podcast. He spent six years in London working for The Guardian.
Loading