Melbourne built its premiership on the back of heavy investment in key defenders, an elite midfield, an unconventional but adequate forward-line balance and a simple, but well understood, game.
They have fallen to successive losses because those key features have not been there.
In defence Steven May's absence has been significant, removing him from the team removes the defensive ballast that enables how Melbourne play up the field. Harrison Petty who has been a good depth defender started the game banged up and ended it worse. Adam Tomlinson was only newly back from long-term injury. Jake Lever plays best when May is there.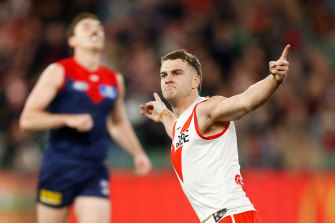 Tom Papley was overjoyed by booting a goal.Credit:AFL Photos / Getty Images
In the midfield strangely enough the Demons were good. Their rucks won, their key stars were good. Christian Petracca was ill last week but was better this week. In field play, Angus Brayshaw was excellent behind the ball moving to a half-back and Ed Langdon's run, missing from a wing last week, was back again. The rucks dominated - they won the hit outs two to one - but centre clearances were even and the Demons lost field clearances.
Player for player they were not poor, yet overall they were beaten. The difference in the teams was less about individuals and more about method and mindset. Melbourne were out-hunted, pressured and worked around the ball.
The adequate forward line was rendered inadequate. Last week the Demons kicked one goal in the second half of the game. This week it was two. That is cumulatively 3 goals across the length of an entire game.
They were without Tom McDonald and now could be without him at length if scans confirm the suspicions that he has a lisfranc injury. Ben Brown hasn't kicked a goal in three weeks and Sam Weideman was brought back in for last week's game after being dropped but after just three marks and no goals he lost his spot to Mitch Brown, the very definition of a journeyman footballer.
The two ruck-forwards, Max Gawn and Luke Jackson, kicked four goals between them which is more than can be budgeted on. Bailey Fritsch is elite but cannot shoulder the burden of being a prime target – that is not his role. The small forwards had too few opportunities.
Last week's loss was assured by Fremantle denying Melbourne the ball with skilful passing and high uncontested possession and control of the air. That is not how Sydney beat Melbourne. Fremantle provided the knowledge of what could be done not the road map to doing it. Sydney offered a road map. This was a Sydney team that fought for the ball and won, they played Melbourne's game back to them.
This is the most troubling aspect of Melbourne's loss. Injuries and loss of personnel are uncontrollable but Melbourne's game, as much as anything about them, is that they win contested footy, are not out-pressured or hunted. Yet, Sydney beat them decisively in winning the ball in the second half in particular. Sydney had more numbers fighting for every disputed ball in the second half, they stripped Melbourne players of the ball when they looked to have possession and they closed down options for where they could move the ball.
Importantly next week they get May back, but the hunger for the contested ball is the most important ingredient they need to return.
BENEFIT OF THE DOUBT
Cody Weightman and Jack Ginnivan share a role as irritant small forwards. They also share the unwelcome connection they were umpired differently this week.
On Friday night, Weightman took a dive in one marking contest and cost himself the benefit of the doubt in others after that. The umpires officiated him differently plainly because they felt he'd duped, or tried to dupe them. He did once, but on other occasions he was just pushed out and should have been given frees. He was not paid free kicks because he had made the umpires doubt what they thought they saw.
On Sunday, Ginnivan was sat on and had his neck wrenched in several incidents and the umpires ignored it. He got two goals from frees early on but thereafter appeared to lose the benefit of the doubt from a season-long habit of chasing frees as much as the ball, throwing his head back and being a smart arse.
Players who duck, throw their heads back or their arms up should lose some benefit of the doubt, but not all. You reap what you sow but you can't ignore a player being caught around the neck in a tackle just because he has a reputation.
TALL ORDER
Given they have lost a million dollar player for much of the year Collingwood has not lost much with Brodie Grundy out. That is equal parts a comment on the size of Grundy's contract as is it on Darcy Cameron's growth in his absence.
Last week Mason Cox drew praise for his game, which was as well as he had played in years. Cameron draws less attention but he has been more than serviceable all year and has improved without Grundy there primarily because his best position is probably first not second ruck. Cox too has improved because he is a better ruckman than forward and he has this year been afforded more time in the ruck.
Ned Reeves was very good for Hawthorn and will be a good long-term ruck. He gave the Hawks good first use of the ball and excellent centre clearances – they goaled at the start of both the third and fourth quarters from perfect taps to midfielders sweeping past like a training drill. But Cameron with 26 touches, nine marks and a goal was very influential.
SWAN SONG
Sam Reid might have played a better game than Saturday night but it is unlikely. It's hard to remember him ever playing as well. That's partly because the first thought with Sam Reid is how many games he's missed, not how many he's dominated.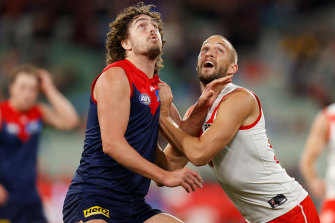 Luke Jackson and Sam Reid battle it out.Credit:Getty Images
Ditto Paddy McCartin whose travails have been long discussed. Playing now alongside his brother they offer a strong defensive pairing whose greatest fragility is the knowledge of Paddy's injury history.
The Swans look better for Reid and McCartin, yet there is that uneasy feeling of fragility about both of them due to their injury history. If the moons can align for just the right amount of time for both of them, they help give the Swans a depth and balance at both ends of the ground that offers them as strong a chance as any team to knock Melbourne off for the flag.