A man remains on the run after he pointed a gel blaster at police, resulting in a Gold Coast street and nearby school being locked down on Thursday.
Police were initially called to a disturbance at an apartment complex on the Gold Coast Highway about 12.30pm.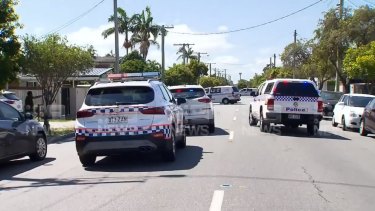 The scene in Sunshine Parade in the Gold Coast suburb of Miami on Thursday afternoon.Credit:Nine News Gold Coast - Twitter
However, the caller did not want to talk to police when they arrived, but subsequent inquiries led officers to a residence on Sunshine Parade in Miami.
Police said the man at the centre of the incident, who is known to officers, pointed a gel blaster at them when they confronted him at the Sunshine Parade home.
Police retreated, called in PolAir and then went into the home, only to find the man had fled.
Police said Sunshine Parade was locked down for about 15 minutes and reopened once officers discovered the man had fled the scene.
Miami State High School was also locked down at the same time, with principal Sue Dalton confirming in a Facebook post that all staff and students were safe.
The man remained on the run at 7pm with police patrols in the area searching for him.
With Matt Dennien