Like any good superhero, Yen Fung leads a double life. By day, she works nine-to-five in property management. At night, she becomes the princesses, superheroes and soldiers from her favourite anime shows.
These transformations, Fung says, have been the saving grace in her recovery from two diagnoses of cancer. She is 27.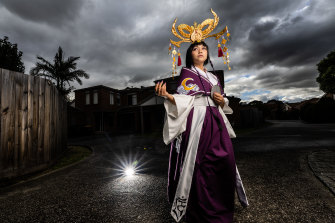 Cosplayer Yen Fung as Princess Tomoyo from the anime series Tsubasa: Reservoir ChronicleCredit:Jason South
Known as cosplay, the mix of costuming and performance art that Fung enjoys originated in Japan in the 1980s. Fans dress up in costumes (usually hand-made) and role play as a character.
It has risen in popularity in Western countries in recent years and, this weekend, organisers of the Oz Comic Con at the Melbourne Convention and Exhibition Centre expect about 25,000 people to attend.
Fung will compete in the cosplay competitions, acting out a two-minute scene in character.
Her love for cosplay started young. Growing up in Brunei, Fung said anime was her way of staying occupied. She started cosplaying in 2014 with her university friends when she had a part-time job and could afford to make the costumes. She stopped in 2016 to concentrate on her studies.
In 2019, she was diagnosed with Hodgkin's lymphoma, went into remission for a year, and was then diagnosed with non-Hodgkin's lymphoma in 2020.
As part of her treatment, the hospital offered art therapy, which was where she rediscovered cosplay.
Fung realised she loved developing the range of skills cosplay required.
"I was listing the amount of skills that I needed just to make this one prop ... it took about eight to 10 skills that I needed to learn," she said.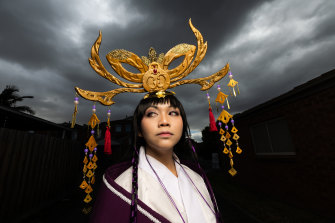 Fung's handmade headdress made from foam and resin took over 20 hours to makeCredit:Jason South
Fung told her partner that she couldn't wait until her body had recovered, so she could go back to cosplay.
Once she did, she reconnected with her university friends and started preparing for competitions, re-entering her double life.
"In the daytime I'm managing properties and in the nighttime I'm working on my costumes and my props and planning my skit," said Fung.
Apart from cosplay competitions, other activities at Oz Comic-Con include artist and gaming stalls, industry panels, drawing contests and celebrity meet-ups.
Some cosplayers overseas have managed to make careers out of it, including US cosplayer Yaya Han who has over 600,000 Instagram followers, a book, and a line of cosplay accessories and fabrics.
The world's largest comic and cosplay convention, Comiket, is in Tokyo. It has both a summer and winter event, and attracts half a million people every year.
The host of the Melbourne cosplay competition, who goes by JusZ Cosplay, and who works in IT, said contestants spend anywhere from a couple of weeks to six months preparing their costumes.
Loading
She has made over 50 costumes since discovering cosplay in 2011, and flies across Australia to host Oz Comic-Con's cosplay competitions across Adelaide, Melbourne, Brisbane and Sydney.
"We really find a group of people who get each other … all my best friends are involved with cosplay."
"Cosplayers are everything in one – we've got to make the armour, we've got to make the patterns, we've got to sew the dress ... Movie studios have 10 people working on a garment – we're just one person at our kitchen table."
The showpiece of the cosplay competitions is the Oz Comic-Con Championships of Cosplay, reserved for the most skilled cosplayers who display high craftsmanship in their costuming.
The winner will be flown to Sydney for the final.
"We're really looking for beautifully executed techniques, innovative ideas, excellent finishing polish," JusZ said.
For Fung, it's as much about the task itself as the result. "Your two hands can create something amazing," she said. "We forget to sit down and just enjoy the process."