Opposition leader Deb Frecklington is adamant her party's "no deal" policy with the Katter's Australian Party or Pauline Hanson's One Nation to form minority government remains in place.
The LNP leader spent Saturday on a road upgrade blitz by visiting four seats to spruik her previously promised 34-point $1 billion south-east Queensland congestion-busting plan.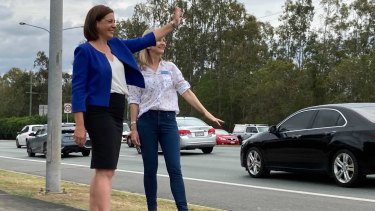 LNP leader Deb Frecklington (front) with Aspley candidate Amanda Cooper near the intersection of Beams Road and Gympie Roads in Carseldine. The party has promised a $90 million overpass at the junction.Credit:Toby Crockford
When asked on Saturday whether the party still had a "no deals" policy with Katter's Australian Party and Pauline Hanson's One Nation to form minority government, Ms Frecklington said "absolutely".
"We've got Deb Frecklington and her team getting around this great state of ours because we are focused on the real issues – the people of Queensland who want to get into work," she said.
"We have the highest unemployment rate in the nation, it is a shocking statistic. That is why I'm asking the people of Queensland to vote one for the LNP."
Loading
Ms Frecklington swung by the Chatsworth electorate in Brisbane's south-east, which is held by the LNP's Steve Minnikin by only 2.9 per cent.
In a fresh promise, the party has vowed to inject $20 million to fix Old Cleveland Road congestion by extending turning lanes and adding new pedestrian overpasses to remove traffic lights.
The LNP campaign bus visited the seat of Aspley on Brisbane's northside, which is held by Labor's Bart Mellish on a margin of just 1.17 per cent.
The state opposition has promised to cough up $90 million to build an overpass at the bottleneck junction of Beams and Gympie roads in Carseldine.
Loading
The campaign bus then headed up to the seat of Caloundra on the Sunshine Coast, where LNP incumbent Mark McArdle is retiring with a margin of just 3.41 per cent.
Stuart Coward, who has a background in business and community services, is the new LNP candidate while former soldier and corrective services officer Jason Hunt will run for Labor.
The LNP has promised to use $35 million to fast-track the Bells Creek Arterial Road construction in Caloundra, which Labor has also committed the same amount of money for the project, and fix the Caloundra Road and Nicklin Way roundabout for $15 million.
The final stop was the Noosa electorate, which is held by independent Sandy Bolton on a margin of 11.53 per cent. The LNP has pledged to duplication Beckmans Road at a cost of $10 million.
In other major aspects of the LNP's $1 billion plan, the party has pledged to duplicate Cleveland-Redland Bay Road at a cost of $40 million, carry out a $120 million upgrade to Exit 57 on the M1 and complete a Centenary Motorway Bridge duplication for $245 million.
Ms Frecklington also plans to upgrade the South Pine Road and Stafford Road intersection for $100 million, a Mount Lindesay Highway duplication for $40 million, a $30 million car park upgrade at Helensvale train station and invest $50 million in a trial producing bitumen using recycled plastics.
On the flip side, Labor has promised to create a second inland route from Charters Towers to the New South Wales border to take trucks off the Bruce Highway.
Both parties have also pledged to build the "second M1" between Brisbane and the Gold Coast.