Mr Thompson claims the injuries sustained after using the corrosive chemicals on his garage left him in agonising pain and have required four operations. He says he has not been able to fully recover.
According to a writ filed in the County Court of Victoria by law firm Shine Lawyers, Mr Thompson approached Moreland City Council in early 2016 for advice on how to remove vandalism from his back garage.
The spray paint covered the side of his garage, he told The Age, which was an area of about seven metres by three metres.
In response, Mr Thompson says he was provided with a powerful chemical product to use on the graffiti. According to the council's website, the free cleaning kits form part of Moreland's effort to curb vandalism in the area.
"Initially, while I was removing the graffiti I did not feel any pain," he told The Age.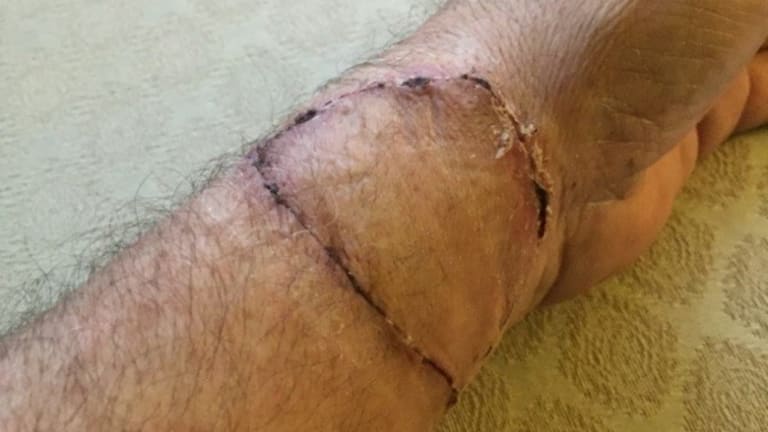 Burns that Stephen Thompson says he sustained after using a graffiti removal kit on his back garage.

Photo: Supplied
"It was not until later that same evening when the pain progressively got more intense. By the next morning when I saw a doctor, the pain was pretty overwhelming. There was no way that I could drive or even keep my emotions under control."
Among the negligence alleged by Mr Thompson is that Moreland City Council and product manufacturer Graffiti Removal Systems failed to provide him adequate instructions, failed to provide him appropriate safety equipment including gloves, and failed to provide him hand wash.
The 62-year-old said he was forced to retire early from his $87,000-per-year job as a contract officer for the RAAF because of the chemical burns to his hands and arms.
Burns that Stephen Thompson says he sustained using a graffiti-removal kit on his garage.

Photo: Supplied
"Due to the nature of the work I was performing, it meant that I was unable to stay on top of the projects that I was assigned," he told The Age.
"This caused a lot of stress and contributed to me eventually resigning."
He said he was taking powerful medication for months after the incident to deal with the pain. His medical expenses have totalled $6000, not including transport costs.
Burns that Stephen Thompson says he sustained after using a graffiti removal kit on his back garage.

Photo: Supplied
Two years after the incident, Mr Thompson described his recovery as "unsettling".
A change of sensation in his left hand meant that he regularly dropped drinking glasses, he told The Age. He also claims he can no longer play golf because he lacks the strength to hold the clubs.
Graffiti Removal Systems did not respond to The Age's request for comment, however in a defence filed in court, the company rejected the allegations made by Mr Thompson.
The company claimed that Mr Thompson's contributory negligence had resulted in his injuries.
This included failing to wear suitable protective clothing, failing to remove contaminated clothing immediately and failing to rinse his skin with plenty of water, they told the court.
Moreland declined to comment as the matter is still before the court.