It's best to have an umbrella at the ready as more showers and thunderstorms are predicted to remain in south-east Queensland, the Bureau of Meteorology says.
Meteorologist James Thompson said a line of severe thunderstorms swept through the Brisbane area over the weekend.
"Severe wind gusts of 93 kilometres per hour were detected at the airport as well as some severe hail in excess of two centimetres at Acacia Ridge, Oxley, Victoria Point, Mount Cotton and Keperra," he said.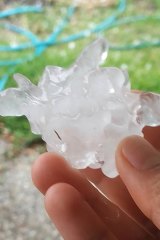 Hail even bigger than golf balls fell at Archerfield on Sunday afternoon. Credit:Syifa Arlin
"There were showers on Saturday but Sunday was the big day for storms. The highest rainfall total we saw was at Mount Sylvia on the Brisbane river catchment that had 67 millimetres.
"North Stradbroke Island had 66 millimetres of rain."
Mr Thompson said the north Brisbane suburb of Brighton had 56 millimetres of rainfall while wind damage was reported north of Ipswich on Sunday.
There were 1672 Energex customers without power in the Brisbane City area and 2606 likewise in Redland City area on Sunday afternoon.
Mr Thompson said a trough system was dragging in moisture to Queensland.
"That moisture helps with any storm development, which is why we saw a heavier total of rainfall and storms coming through the area," he said.
The storm swept through Ipswich in Queensland.Credit:QLD SES - Ipswich City State Emergency Service Unit
Mr Thompson said there was a slight chance of a thunderstorm on Monday afternoon.
"Most of the weather is moving offshore this morning and we've already had a few showers but there may be something lingering later today," he said.
Mr Thompson said a severe thunderstorm was likely on Tuesday while Wednesday could bring a 70 per cent chance of showers and storms in the south-east.
"We often see the storm season pick up at the end for October and November so it's not too surprising that it's moving through south-east Queensland," he said.
"We do start things clearing off on Thursday with a brief period of cloudy conditions before thunderstorms or showers come back on the weekend."