Rafael Bonachela is the artistic director of Sydney Dance Company. The company has recently collaborated with the Sydney Symphony Orchestra to create Cuatro, a series of four works available online.
TV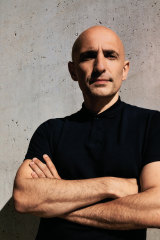 Sydney Dance Company's Rafael Bonachela.
I absolutely love Ru Paul's Drag Race. I'm not a fan of reality TV, but this show is something else. It's a joyful reflection of the fabulously diverse world we live in. It's political. It's entertaining. It's empowering.
Music
Christine and the Queens. It was the gig of the year for me in 2019: at the Enmore Theatre, a queer, French pop artist who really put on a show. Her music can emote and make you go deep within or take you out of yourself and just get you dancing.
Art
Mel O'Callaghan's Centre of the Centre. I saw this work at Artspace in Woolloomooloo. It is a profound union of science and art. A poetic and sublime journey to the deepest ocean, where the abstract is real.
Stage
The Visitors and The Weekend are two plays that I saw at Sydney Festival and absolutely loved, both produced by Moogahlin Performing Arts. Both are very different but make such powerful and profound statements.
Design
I've not done much shopping in isolation, but I recently purchased a Mariposa chair by Swede Lars Kjerstadius. It's a modern adaptation of the original Argentinian BKF Butterfly chair, a design classic … so comfortable and perfect for an afternoon siesta.