Some time in the next two weeks, Lyn Osborne will return to her gutted house in the Dandenong Ranges and take a moment to say goodbye.
The walls have been stripped back to their bare timber frames and plastic covers a smashed roof, but Osborne will savour the final moments in the happy family home in Kalorama where she lived for 43 years.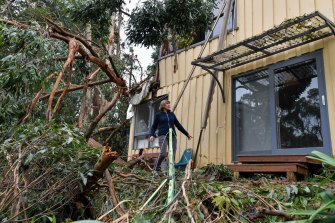 Lyn Osborne inspecting the damage to her property in June last year.Credit:Joe Armao
"I'll talk to it about the good times we've had, and thank it very much for what it's given me in my life," she said. "I hope it's happy for the next people."
Thursday marks one year since terrifying storms ripped through the hills, bringing down more than 25,000 trees and damaging 173 properties in the Yarra Ranges, including 76 homes that were rendered uninhabitable.
The storm left a trail of destruction across the state, including flooding in Gippsland.
Like Osborne, some residents of the Dandenong Ranges have decided to sell up and leave rather than face the trauma of another fierce storm.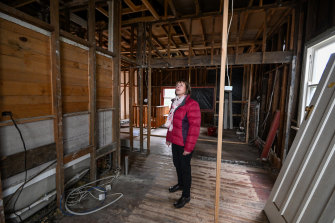 Lyn Osborne in the gutted Kalorama home she has decided to sell. Credit:Joe Armao
"It's a matter of how people handle the winds and storms again," she said. "There's a lot of hurt on the mountain. A lot of people are suffering psychologically."
While the Yarra Ranges Shire could not provide figures, some residents have spoken about many neighbours leaving the mountain.
Reverend Andrew Smith, of St Michael's Church in Kalorama, said he knew of five families that had sold their properties and left since January.
He said others were struggling with their insurance companies and faced long waits to rebuild their homes as the construction industry grappled with labour and materials shortages.
Reverend Andrew Smith with donated goods he will distribute to people in Kalorama. Credit:Joe Armao
"The majority of properties are still under tarps," Smith said. "They're full of black mould."
The church, which served as a relief centre after the storms, continues to provide emotional support and groceries to the surrounding community.
"I know of families where kids are really traumatised and not sleeping," Smith said. "They have issues when the weather is bad."
Kalorama resident Thomas Corbin and his wife, Samantha, decided to stay despite trees smashing part of their roof and destroying their car in the storm. But he said it was tempting to leave, and he knew of eight households that had made that decision.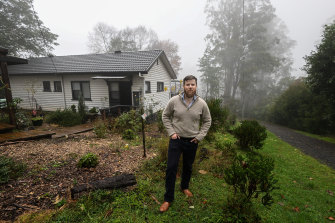 Thomas Corbin outside his Kalorama home. Credit:Joe Armao
Strong winds still trigger anxious memories for Corbin, particularly at night.
"There are times I can't sleep, and perhaps at 2 o'clock in the morning I think it would be nice to live on the Murray," he said.
Wendy Berry is unsure whether she will return to her Kalorama home, although she has committed to rebuilding it after a tree crashed through the bedroom next to hers.
"Part of me just wants to be home again, but other parts are scared of moving home," she said.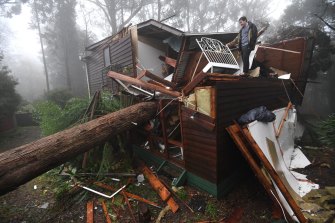 The Insurance Council of Australia declared the June 2021 storms in Victoria an insurance catastrophe. Credit:Joe Armao
On June 13 last year, the Insurance Council of Australia declared the storms an insurance catastrophe. By May this year more than 34,000 claims had been lodged, with estimated losses valued at $302.9 million. Those costs are still rising.
An insurance council spokeswoman said difficult terrain had hampered the recovery from the June storms, in addition to labour, trades and building supply shortages.
The Mount Dandenong Preschool remains closed after trees smashed into the building. Educator Jo Dixon said it was unclear whether the preschool would be rebuilt or moved to another site.
"We're still feeling trauma and grief for a workplace we held very dear," she said. "My children went there themselves."
Lyn Osborne lived in Kalorama for more than 40 years before the storm prompted her difficult decision to sell. Credit:Joe Armao
Yarra Ranges Mayor Jim Child said many people in the community were at different stages, both in their emotional recovery and rebuilding their homes.
However, he said the June storms were among many natural disasters the community had withstood, including the Black Saturday and Ash Wednesday fires.
"Each one of those events we've had in the Yarra Ranges has always galvanised the community," he said.
For Osborne, the storm came after her husband David died in 2020.
She and David had lived there since the late 1970s and raised two children in the house, which previously belonged to David's great aunt and uncle.
Now, the house is full of buckets to catch rain from the leaky roof. The four-week settlement on the sale ends later this month and Osborne will soon move into the more suburban neighbourhood of Mooroolbark.
She said part of her was glad David did not see the house in such a "sorry state".
"He loved this place. We both do."
The Morning Edition newsletter is our guide to the day's most important and interesting stories, analysis and insights. Sign up here.