We're sorry, this feature is currently unavailable. We're working to restore it. Please try again later.
Queensland's premier has confirmed an inquiry will be held into the state-run forensics laboratory after potential problems with evidence were highlighted and police began reviewing hundreds of sexual assault cases.
Premier Annastacia Palaszczuk announced on Monday there would be an inquiry into the Forensic DNA Analysis Unit, after police recently said they were reviewing hundreds of sexual assault cases dating to 2018 involving evidence reported as having "insufficient DNA for processing".
Potential problems with the laboratory came to light as a result of a podcast series by The Australian about the death of Shandee Blackburn in 2013.
"A submission from the [Queensland Police Service] has also raised concerns about the lab," Palaszczuk said.
"It is clear to me that nothing short of a full, open and rigorous commission of inquiry can restore confidence in DNA testing in this state."
Palaszczuk said the commission of inquiry would be funded by the Department of Premier and Cabinet, and would be headed by outgoing Court of Appeal president and judge of the Supreme Court Walter Sofronoff.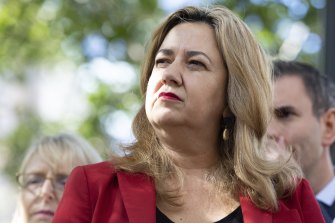 Queensland Premier Annastacia Palaszczuk. Credit:Sydney Morning Herald
Sofronoff is a former Queensland solicitor general and headed the commission of inquiry into the Grantham floods.
"The most experienced person has said he will come on board and do this commission of inquiry," she said.
Loading
"It'll be six months ... [Sofronoff] will not leave any stone unturned.
"He will do this to the best of his ability. He will, of course, understand that there are victims of sexual assault, it will be handled in a sensitive manner."
Palaszczuk said the laboratory analysed about 28,000 samples a year.
More to come.