The reconstruction of flood-ravaged communities in northern NSW will be led by a new corporation that has powers to compulsorily acquire or subdivide land and accelerate planning proposals.
Long-term housing and social infrastructure that is resilient against natural disasters will be the priority for the new body, which will be supported by an advisory board of residents and local MPs and mayors, with a three- to five-year remit.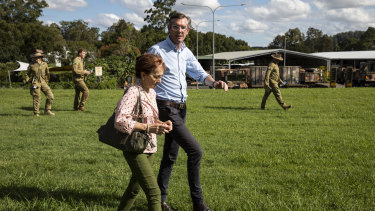 Premier Dominic Perrottet in Lismore with state Labor member Janelle Saffin earlier this month.Credit:Natalie Grono
NSW Premier Dominic Perrottet will launch the Northern Rivers Reconstruction Corporation on Tuesday when he returns to Lismore, one of the towns most devastated by the February-March floods.
Perrottet said the rebuilding of Lismore and surrounding areas required a single authority to guide the process beyond the immediate recovery phase, which is being led Resilience NSW.
"We are working through recovery, and we have an independent inquiry under way that will hear from all those impacted, from experts and the scientific community," he said.
"The [corporation] will be able to draw on the recommendations from the inquiry and lead the long-term reconstruction work to build certainty for future generations."
Labor member for Lismore Janelle Saffin, whose own home was inundated during the flood, has repeatedly called for a reconstruction commission to guide the recovery and reconstruction process in the Northern Rivers.
Saffin has previously described the flood event as a national disaster, likening its impact to that of Cyclone Tracy, which devastated Darwin in 1974.
"A reconstruction commission is needed to secure a comprehensive response that mirrors the magnitude of this devastating flood. We have suffered a humanitarian disaster with severe human security impacts," Saffin said on Sunday.
Loading
The development corporation's chief executive will be David Witherdin, who leads Public Works Advisory and the Soil Conservation Service. The corporation will report to Deputy Premier Paul Toole.
Compulsory land acquisition and subdivision, fast-tracking of building and accelerated proposals through the Department of Planning and Environment will form some of the authority's powers. It will also engage with the insurance, construction and infrastructure sectors.
Toole said the corporation would consult widely with affected communities to bolster them for future flood events.
As well as Lismore, the authority will work in Kyogle, Tweed, Richmond Valley, Clarence Valley, Byron Bay and Ballina.
The state government on Sunday said Ballina would be the first site where temporary modular homes used to house bushfire victims would be repurposed for flood victims.
Up to 100 people will be housed in the first 25 recovery "pods" in Ballina, and additional sites will be named for up to 2000 to be sent to Tweed, Byron, Richmond Valley and Lismore in coming weeks.
The pods have been welcomed as an immediate measure for flood-ravaged areas, but locals say a middle- to long-term solution is required to address the housing crisis that the region has long faced.
In holiday hotspots such as Byron Bay and Ballina there have been calls for a 90-day cap on short-term holiday letting to free up properties for flood victims who have lost homes.
A spokeswoman for the premier on Sunday said prospective holidaymakers were encouraged to consider the needs of flood-impacted communities when planning trips to the Northern Rivers.
"That said, we know tourism in the broader northern rivers is vital for the local economy and the region's recovery, ensuring businesses are able to survive and continue sustaining local jobs. Maintaining the prosperity of this industry is critical," she said.
Since the floods, the government has provided more than 3000 nights of free temporary accommodation, $248 million for rental support payments and $350 million for a pipeline of modular homes.
A guide to the environment, what's happening to it, what's being done about it and what it means for the future. Sign up to our fortnightly Clear Air newsletter here.