The state of Texas - which some Republicans fear Donald Trump could lose at the US election - has made it harder to vote in Democratic cities by reducing drop-off points where people can hand in their ballots.
Republican Governor Greg Abbott, an ally of the President, today announced that counties in Texas can only have one location to collect completed mail ballots from voters - a move that critics say amounts to voter suppression in highly populous left-leaning cities such as Austin and Houston.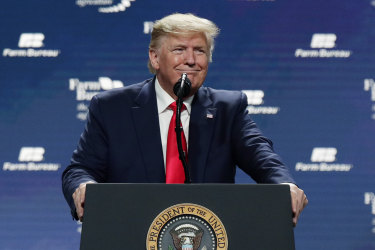 President Donald Trump arrives to speaks at the American Farm Bureau Federation Annual Convention in Austin, Texas in January.Credit:AP
The order comes amid a concerted push by Trump to sow doubt about the US election by consistently claiming without evidence that mail-in ballots lead to "widespread" voter fraud.
But the Governor's directive has outraged Democrats and voting rights activists, who say the Republicans are trying to change the rules at the last minute because they fear they are "on the verge of losing."
"Make no mistake, democracy itself is on the ballot," Texas Democrat Party Chair Gilberto Hinojosa said in a statement this morning.
Loading
While Republicans have held Texas for decades, changing demographics in urban areas, record voter registration among the black and brown communities, and issues such as coronavirus have made the state an outside chance of swinging in Biden's favour.
The latest RealClearPolitics average has Trump ahead by 3.2 points, but some earlier polls have placed the candidates with only one point between them.
Losing Texas would be devastating for Trump, because the state, with a population of 29 million, has 38 electoral college votes - the second highest number of electoral college votes after California, which has 55.
Prominent Texans Republicans such as Senator Ted Cruz and President George W Bush's former strategist Karl Rove have been warning for months that Texas is "in play," and last week, celebrities such as Seinfeld actress Julia Louis-Dreyfus and comedian Amy Schumer upped the ante with an online fundraising campaign to support Biden.
"There's no debate: If we #TurnTexasBlue, Trump is through," tweeted Dreyfus.
The order issued by Governor Abbott forces counties to abandon sites that were set up to collect completed mail ballots from voters.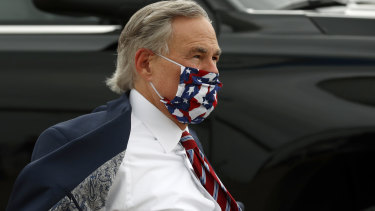 Texas Governor Greg Abbott.Credit:AP
Harris County, which takes in the Democratic city of Houston and has a population of almost 5 million people, had 11 sites where voters could drop off their ballots. Now it only has one.
Loading
Travis County, which takes in the city of Austin and has a population of 1.2 million, had 4 designated sites, now down to one. Other Democratic cities such as Dallas and El Paso only had one designated site to begin with.
Abbott's order also directs poll watchers to "observe any activity conducted at the early voting clerk's office" related to the delivery of marked ballots.
"The State of Texas has a duty to voters to maintain the integrity of our elections," the Governor said.
"As we work to preserve Texans' ability to vote during the COVID-19 pandemic, we must take extra care to strengthen ballot security protocols throughout the state. These enhanced security protocols will ensure greater transparency and will help stop attempts at illegal voting."
The Governor's changes come as millions of Americans are preparing to receive mail-in ballots so they can vote safely during the pandemic, if they do not wish to vote in person on November 3.
However, Trump has consistently moved to delegitimise this method of voting, claiming that sending unsolicited postal ballots to people could lead to widespread fraud.
The president pushed this line during the controversial presidential debate on Wednesday (AEST), when he claimed "as far as the ballots are concerned, it's a disaster." Later he added: "It's a rigged election."
In reality, fraud is rare in the US, where several states, including Colorado, Utah and Oregon, have had elections primarily by mail long before the coronavirus hit, with no evidence of "widespread voter fraud."
Trump, who lives in Florida when he is not at the White House, also votes by mail, but he argues that absentee voting (where you request a ballot to be sent to you) is not at risk, unlike "unsolicited mail-in voting" (where a ballot is sent to you regardless of whether or not you have asked for one).
Trump Biden 2020
Our weekly newsletter will deliver expert analysis of the race to the White House from our US correspondent Matthew Knott. Coming soon. Sign up now for the Herald's newsletter here, The Age's here, Brisbane Times' here and WAtoday's here.