One of the biggest infrastructure investors in the country is lobbying the government to divide major job-creating projects into smaller contracts to help Australian businesses compete for infrastructure contracts typically won by global construction giants.
The significant proposal from IFM Investors chief executive David Neal to change the existing procurement system aims to give local medium-sized firms a better chance at being awarded contracts for nation-building initiatives and make super funds more willing long-term equity partners.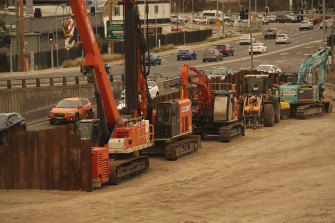 Major infrastructure contracts are typically awarded to global construction giants under current procurement systems.Credit:James Alcock
IFM and the 27 industry super funds that own the fund manager are multi-year investors and reluctant to invest in "mega-projects" under the current terms, which Mr Neal, the former Future Fund chief, said benefits construction giants typically from overseas who want to move onto other projects as soon as the build is complete.
"We're building these Australian projects and it's Australian constructors that are getting squeezed out," Mr Neal said.
Instead, he wants major developments broken up into smaller projects and the opportunity for equity partners to enter long-term arrangements with the government in a proposal he describes as being "four wins" for the economy, jobs, super fund members and local companies.
"We look at this misalignment of short-term constructor-focused model with what we're trying to achieve, which is long-term, productive, economy-building projects and think there must be a better way."
IFM Investors CEO David Neal, former Future Fund chief.Credit:Dominic Lorrimer
A short-term focus on big taxpayer-funded projects can lead to poor outcomes for the public with unexpected complications, cost blow-outs and delays, he said.
The federal government is looking to improve the country's economic future and the unemployment rate by backing major infrastructure projects that will help boost jobs, as the unemployment rate jumped to 7.4 per cent in June.
Data from the Australian Bureau of Statistics released on Thursday showed almost 1 million people out of work and the worst jobless figure in over two decades due to the shock of business shutdowns from the coronavirus pandemic.
Loading
Treasurer Josh Frydenberg encouraged super funds in June to invest in big developments and do more to help the recovery.
However, a multi-billion dollar bid from a private consortium including IFM to build Melbourne's airport rail link is expected to be rejected by the Victorian and federal governments in favour of a cheaper option.
Despite this, Mr Neal said there had been "lots of interest" across state and federal governments about IFM's suggested changes to the procurement rules. IFM manages about $150 billion, including $70 billion in infrastructure.
"We're trying to bring a constructive suggestion that says [to the government] you've got a lot on your plate and lots of people asking for your money," Mr Neal said.
Loading
"We're not asking for your money, we're asking for the opportunity to contribute superannuants' money. There are billions here that are ready to be deployed to support nation-building projects," he said.
"Bring the projects forward with the right procurement model and we'll engage keenly."
Industry Super Australia chairman Greg Combet, who is also the chairman of IFM, recently accused Liberal MPs of being "hugely disruptive" and trying to undermine the super system following revelations of a backbencher push to delay the legislated superannuation increase. He has warned a $19.5 billion plan from IFM and Industry Super Property Trust to spend on infrastructure and property, creating 200,000 jobs, could be derailed by major policy changes.
Loading
Mr Neal is also concerned about the future stability of the superannuation industry, with a landmark report analysing the retirement system including super and the pension due to Treasury on July 24.
"Superannuation is a long-term savings vehicle. I think stability to the policy environment for anything that's long-term in its nature is critical," he said.
"It's very hard to develop long-term investment strategies if there are sudden, unexpected changes."
Aware Super, formerly First State Super, chief executive Deanne Stewart also warned this week major upheavals to the system could affect the super funds' plans to invest in the economy.
Jennifer Duke is an economics correspondent for The Sydney Morning Herald and The Age, based at Parliament House in Canberra.
Loading