One hundred firefighters are continuing to battle a large fire at a garbage shed in Sydney's south after a pile of waste went up in flames about 8am on Saturday.
Fire and Rescue NSW dispatched 20 firetrucks to the site on Lindsay Street, in Rockdale, as thick black smoke billowed over the city's south.
Crews expect to fight the blaze into the early evening, said Fire & Rescue NSW Superintendent Adam Dewberry. People who live or work near the Cleanaway Rockdale Resource Recovery Centre have been evacuated.
The cause of the fire remains under investigation.
Fire and Rescue NSW urged residents in the area to stay indoors and shut their doors, windows and air vents.
"There's lots of smoke in the area. We are advising people to stay away and stay indoors," said Dewberry. "It's not good to breathe in, obviously."
Dewberry said the fire was contained but firefighters would be working into the evening to fully extinguish the flames. An excavator is clearing extra garbage away from the burning site.
At 10am an emergency text alert was issued to people in the area and residents were to avoid Bay Street, West Botany Street, President Avenue and The Grand Parade.
Local businesses close to the garbage shed, including a neighbouring Fitness First, have been shut down.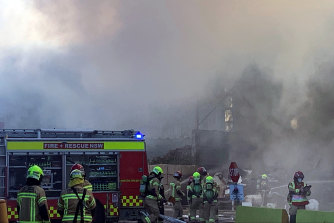 One hundred firefighters, 20 firetrucks and an excavator are at the Rockdale warehouse fire as smoke chokes surrounding streets.Credit:Fire and Rescue NSW
Peter Perivolarellis was evacuated from Repco Rockdale on West Botany Street, where he works, about 9am as the fire burned close to the back of the store's building.
"The blaze is quite large but under control," he said. "The firies got on the scene quite quickly."
Perivolarellis said he suspected one the nearby garbage facilities was on fire when a customer told him there was smoke outside.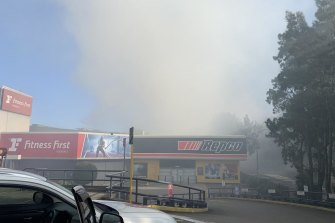 Customers and staff were evacuated from Repco Rockdale about 9am on Saturday morning.Credit:Fire and Rescue NSW
"This isn't the first time this has happened," said Perivolarellis. "But the last fire wasn't to this scale and got put out in an hour or so. This is one of the worst ones I've seen for sure."
Brighton Le Sands resident Zin Snehal Kamble, who lives about a kilometre from the warehouse, said there was smoke "everywhere" in the area and urged shoppers to avoid the Rockdale Plaza shopping centre.
"About 8:30 I heard sirens and helicopters," she said. "On Saturday people go up to Rockdale Plaza. For senior citizens the smoke is so bad, I'm worried about them being out today."
Thick black smoke billowing from the facility is visible from Sydney Airport, where tens of thousands of travellers arrived early for their long-weekend departures after Friday's queuing chaos and dire delays.
The shed's operator, Cleanaway, confirmed the fire flared up at its Rockdale facility.
"The site was fully evacuated and there were no injuries from staff on site or in the community," a Cleanaway spokesperson said. "We're working to control the impact of the fire."
Cleanaway's Head of Corporate Affairs Mark Biddulph said the cause of the fire would be investigated. He said waste facility fires were often sparked by lithium batteries and gas bottles, which can cause fires at dumps and in garbage trucks when incorrectly disposed.
The Morning Edition newsletter is our guide to the day's most important and interesting stories, analysis and insights. Sign up here.