It is good news our Deputy Premier John Barilaro is taking a break for his mental health. These days we all understand there is no shame in it, and just as some people have a dicky ticker and need to hit the pause button, others have trouble mentally and also need to stand down for a while to sort things out.
In the wake of his break though, I seek to make one – hopefully – exceedingly gentle point. Barilaro's supporters have suggested that, given concerns for his mental health, his critics inside and outside of politics must back off. That is fair enough. But, particularly in recent months, he has pursued a bare-knuckle style of politics, openly attacking even colleagues.
Let's hope when Barilaro returns to politics he pursues a gentler approach. The critics – your humble correspondent included – will inevitably pull back in kind.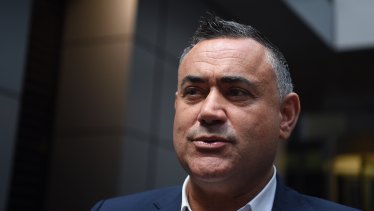 John Barilaro is under pressure.Credit:SMH
Barbados beats us to it
Oh, come on. Who didn't briefly gaze out the window wanly at the news that Barbados, which gained independence from Great Britain back in 1966, is now feeling strong enough, confident enough in itself as a nation, to announce that next year it will become a republic, replacing Queen Elizabeth as head of state with one of its own citizens.
Loading
"The time has come to fully leave our colonial past behind," announced Barbados Governor-General Sandra Mason, on behalf of the country's Prime Minister Mia Mottley. "Barbadians want a Barbadian head of state. This is the ultimate statement of confidence in who we are and what we are capable of achieving. Hence, Barbados will take the next logical step toward full sovereignty and become a republic by the time we celebrate our 55th anniversary of independence."
Friends, you surely get it. There is tiny Barbados announcing to the world it is ready to go its own way, now the 34th of 54 nations of the Commonwealth to become a republic – while still remaining in that family of nations. And here we are, mighty Australia, 120 years after achieving our own nominal independence, still with our parliamentarians swearing loyalty to a foreign queen, and every law passed by our lawmakers needing her assent before actually having legal force.
As chair of the Australian Republic Movement, I can report the move to our own independence is going well, with record support and engagement, but we do need to take this to the next level directly that the Plague recedes a little. Engage!
In the pink
It was a strange circumstance last week for your humble correspondent to find himself in the space of just a few days scrambling all over, under, through and around Sydney's two most globally recognised and beloved icons, but so it turned out. As a passenger on my daughter's freebie ticket, I can report that the iconic BridgeClimb is back, with strict coronavirus protocols observed, and that Sydney from the high strut makes you want to do just that across the arch so fabulous does it look. As to the Opera House – while it was a bit odd to arrive on the edges of its instantly recognisable shells only to gaze back towards the city and see a man in a pink track-suit having his breakfast on his balcony in the Toaster – but enough about Alan Jones, the rest was glorious. It was a pleasure and a privilege to go all over and through the building for the purposes of a book I am writing, and I can report they are using the enforced Plague pause to good effect, with round the clock shifts to keep the whole masterpiece contemporary and revelevant as the genius Jorn Utzon intended.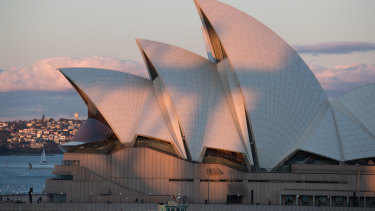 The Opera House is making good use of its enforced COVID closure.Credit:Edwina Pickles
Ring the Bell
In honour of the mighty Bell Shakespeare Company's 30th anniversary, it is holding a series of debates, starting this Thursday at 7.30pm, featuring the likes of Jane Caro, Ben Law, Jan Fran, Jess Scully, Miriam Corowa, Jonathan Biggins and Rebecca Huntley. The first topic: "That we have seen better days." (My money is on the affirmative team!), And you can watch it online via bellshakespeare.com.au.
Joke of the Week
Top eight country and western song titles: 8 She Got the Goldmine, I Got the Shaft. 7 If the Phone Don't Ring, You'll Know It's Me. 6 I've Missed You but My Aim's Improvin'. 5 I'm So Miserable Without You It's Like You're Still Here. 4 My Wife Ran Off With My Best Friend And I Miss Him. 3 She Took My Ring and Gave Me the Finger. 2 She's Lookin' Better with Every Beer'. 1 It's Hard To Kiss the Lips at Night that Chewed My Arse Out All Day Long.
Quotes of the Week
"I am very proud of the fact that when I lit the cauldron all those years ago it was a symbol of hope for all young Australians. It is at times like this that I simply reflect and I wonder at the power of sport and the difference that sport can make in our lives." - Cathy Freeman, remembering the day 20 years later.
Cathy Freeman ignites the Olympic flame. Credit:AP
"I'll be in cabinet and I'll be at ERC [expenditure review committee] and I'll be as vocal as always, fighting for the bush. It's simple, if you don't like it, you know where the door is." - NSW Deputy Premier John Barilaro warning Liberal colleagues that he will not be pushed out by them.
"If it means I have to lose the election, I will risk all that if it means keeping Queenslanders safe. I will always stand up for what I believe to be right in this state, I am putting myself out there, I am putting myself on the line. People stop me [in the street] and tell me they want us to keep going with what we are doing. I will stand on my record, I will hold my head up high and I will stare down those people who are trying to tear Queensland apart." - Queensland Premier Annastacia Palaszczuk saying she would rather lose the state election next month than bow to pressure and reopen the state's borders before her chief health officer advises it is safe.
"It's not a smoking gun. It's not even gunshot residue on the hands of your prime suspect, but there is a distinct whiff of cordite in the air which may be suggesting something." - Dr David Clements, an Imperial College of London astrophysicist, coauthor of a study published after telescopes in Hawaii and Chile spotted clouds over Venus with the chemical signature of phosphine, a gas that on Earth is only associated with life.
"There's a desperate need for warm human bodies prepared to work hard in the regions right now and for the next couple of years until the borders reopen properly. The idea to offer the chance to proven refugees in Australia to go bush and do this work in return for a permanent visa is worth backing. If they do the right thing by the country and prove their commitment then we should embrace them in return." - Julian Hill, who represents the diverse south-eastern Melbourne electorate of Bruce, one of the government and opposition MPs who are backing a proposal to have refugees go bush to fill fruit and vegetable picking jobs left behind by backpackers locked out of the country. The Refugee Council of Australia has suggested that the 17,000 people in Australia on two classes of refugee visas could be offered an easier path to residency in exchange for helping out.