London: British Foreign Secretary Dominic Raab has wrongly said that the practice of taking the knee originates from the cult television show Game of Thrones.
Asked if he would take the knee personally, Raab, who is a fan of the Game of Thrones series, told conservative radio host Julia Hartley-Brewer that he would kneel for only two people - "The Queen and the missus".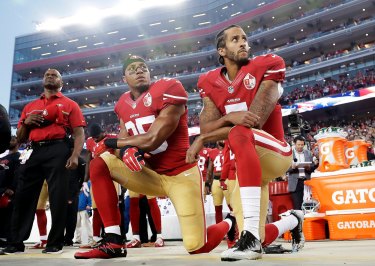 Colin Kaepernick, right, and Eric Reid take a knee during the US national anthem in 2016.Credit:AP
Taking the knee originated in 2016 when the then American footballer Colin Kapernick knelt for the national anthem before kick-off, instead of standing to attention with his right hand over his heart, as footballers were encouraged to do.
Kaepernick's teammate Eric Reid also knelt. The pair said kneeling was considered more respectful than sitting and likened it to flying a flag at half-mast. They said it was intended as a peaceful form of protest against police brutality directed at African Americans.
Loading
Raab, however, told Britain's Talk Radio that while he understood "this sense of frustration and restlessness which is driving the Black Lives Matters movement", he felt the move was a symbol of subjugation that clashed with the BLM.
"I've got to say on this taking the knee thing - I don't know, maybe it's got a broader history but seems to be taken from the Game of Thrones - feels to me like a symbol of subjugation, subordination rather than one of liberation and emancipation," he said.
In Game of Thrones, the fictional character Daenerys, who wants to be a supreme leader, demands her allies and those she conquers "bend the knee" to demonstrate their allegiance and submission.
The practice of taking the knee has long enraged US President Donald Trump, but the Black Lives Matter protests have gone global, with athletes from around the world, including in Australia, kneeling before competing out of solidarity and to also draw attention to injustices suffered in their own countries.
Players kneel before the start of the English Premier League soccer match between Aston Villa and Sheffield United on Wednesday.Credit:AP
On Wednesday night, English Premier League players knelt before play when the championship resumed for the first time since the coronavirus pandemic brought the league to a halt.
Labour's foreign affairs spokeswoman Lisa Nandy said Raab's "flippant and misjudged comparison demonstrates a complete lack of understanding of the symbolism that taking a knee has become for Black Lives Matter protesters here and around the world".
"This is a moment for calm and measured leadership, not off-the-cuff remarks that disregard such a powerful demonstration of compassion and solidarity," Nandy said.
In Game of Thrones, Daenerys Targaryen, who wants to be supreme ruler, is famous for demanding her subjects and allies bend the knee to prove their allegiance and submission.
Britain's Black Lives Matter protests have led to the vandalisation of statutes - including in Bristol where the statue of slave trader Edward Colston was toppled and rolled into the river by demonstrators.
Loading
In light of the fresh pressure, Oxford University's Oriel College voted to remove a statue of the 19th-century imperialist Cecil Rhodes, after resisting calls to do so since 2015.
Both Raab and Prime Minister Boris Johnson have urged against the "airbrushing" of Britain's history and instead called for new statutes to be erected honouring Britain's ethnic figures.