When restaurateur John Szangolies set a northern beaches house price record of $27 million late last year for a Palm Beach weekender, it was regarded as an out-of-line result, the likes of which would not be seen again for some time.
But time moves pretty quickly when there are more buyers such as Szangolies.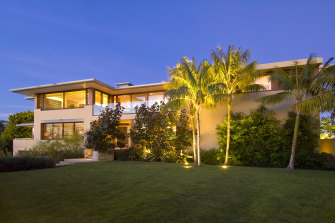 The Palm Beach property Beau Site Sur Mer has almost doubled in value since 2018 to now rank as the highest sale on the northern beaches.
Step forward, tech billionaire Richard White, the former AC/DC guitar technician-turned-founder of software giant WiseTech Global, who has set a new northern beaches benchmark for a rumoured $27.5 million.
White's purchase is part of a three-link chain of sales, each for close to that amount, totaling $80 million that stretches from Sydney's playground of the super-rich to Victoria's equivalent on the Mornington Peninsula.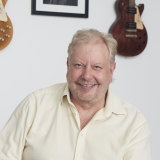 WiseTech's Richard White has joined the ranks of Palm Beach's super-rich.Credit:Natalie Boog
Known as Beau Site Sur Mer, White's new weekender is one of few houses on the "saddle" of Pacific Road that overlooks both the Pacific Ocean and Pittwater, and was sold by investment manager Frank Elsworth and his wife, Amber.
It was built by the late property developer Ian Hayson and later owned by hedge fund manager Paul Henry until he sold to the Elsworths in 2018 for $15 million.
The Elsworths are pivotal to the high-end chain of sales which local talk pins on the LJ Hooker team of David and BJ Edwards and Peter Robinson.
Records show the Elsworths have traded up the hill to the Karala mansion of Boutique Resorts founder Sioned Rees Thomas.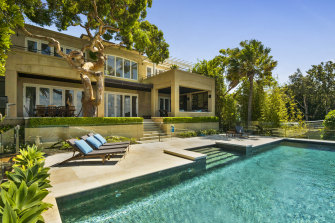 Palm Beach trophy home Karala has been sold for $26.5 million to Frank and Amber Elsworth.
And to think Rees Thomas shocked locals when she paid all of $15.475 million for it 18 months ago.
Following the paper trail south, Rees Thomas has taken her money to Victoria's Mornington Peninsula, where she has paid $26 million for a Hamptons-style mansion with a swimming pool, tennis court, soccer field, equestrian facilities, golf simulator and health retreat.
The Victorian country estate was sold by the end beneficiary of the run of sales, Mark Healey, son of the late British billionaire Eddie Healey, who recently sold his Toorak digs for $43.1 million to Chemist Warehouse boss Sam Gance.
Glamarama couple say 'sell'
The Tamarama home of former model and TV presenter Michelle Walsh and her husband, Chadwick's boss Martin Walsh, will go to auction on July 12.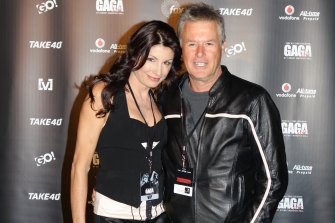 Michelle and Martin Walsh are selling their long-held Tamarama home.Credit:Danielle Smith
Set in the landmark Stonehaven building, the four-bedroom spread was purchased by Martin in two parts: the first in 1988 for $168,000 and its neighbour for $380,000 in 2000, just a few months after the couple were married.
The four-bedroom apartment of Michelle and Martin Walsh goes to auction on July 12.
Martin, who took over the leading model agency in 2007, has listed it with Ray White's Patrick Cosgrove.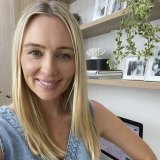 Finance influencer Canna Campbell has traded up to a $10.5 million digs in Tamarama.
Meanwhile, "finfluencer" and financial planner Canna Campbell and her partner, Tom Simpson, have joined the glamorous ranks of Tamarama.
They've paid $10.5 million for a contemporary four-bedroom home, no doubt funded in part by the sale of their Bondi home for $6.035 million in February.
Terra Capital's Matt Langsford and Gigi Penna, daughter of actor Julieanne Newbould, have bought a matrimonial home up the road for $4.5 million.