It's called the big U-turn. To get to his job in city, Vinod Gakhar first has to spend 30 minutes going back before he can go forward.
He lives in Thornhill Park, a new estate in Melbourne's booming west nestled next to the Western Freeway, between the more established suburbs of Melton and Rockbank.
There aren't any arterial roads in and out of Thornhill Park, only potholed single-lane dirt tracks from when the area was paddocked farmland.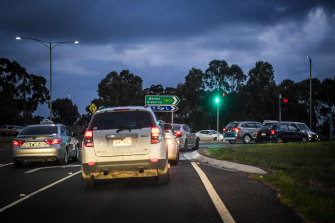 Traffic banks up at the Melton exit.Credit:Justin McManus
That leaves the Western Freeway, which carries thousands of cars each day, mostly people driving between Ballarat, Bacchus Marsh, Melton and the city.
To go just about anywhere – even to get a bottle of milk at the nearest shop – involves merging onto the busy freeway at 110km/h.
There is no overpass to reach the city-bound lanes on the other side, so drivers must first head a couple of kilometres west to an exit in Melton. Then they drive back past where they came from.
"All these people have to go to work, they go down and clog up that singular overpass," said Gakhar, who moved to Thornhill Park two years ago after buying off-the-plan several years earlier.
"I've spent 30-35 minutes at 7.30 or 8am just to do a U-ey and go back. It's more than the traffic jam, it's the inconvenience of doing it multiple times a day."
Residents describe it as like "living on an island" and are calling on the state and federal governments to build a diamond interchange giving them better access to the freeway.
Some are also frustrated at the developer, Wel.Co, for making it seem like an overpass was imminent when they bought property at the estate.
Thornhill Park residents are calling for a new interchange with the Western Freeway.Credit:Justin McManus
Marketing material shown to buyers depicts a "future" interchange and flyover crossing the Western Highway, neither of which have eventuated.
A future train station was also advertised, however there are no solid plans from the state government to build one.
"I clearly remember coming into the sales office, it was only a small office on a barren piece of land," said Gakhar.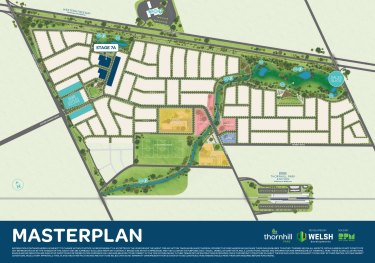 Marketing material for Thornhill Park estate. A future interchange for the Western Freeway is shown at Mount Cottrell Road and a future flyover on Paynes Road.Credit:
"The picture painted to us was 'yes an interchange is coming, a train station is coming'."
Fellow resident Maria Evans moved to the area in 2018, also based on promises of a future overpass. Her children attend school in the nearby Woodlea estate, which requires taking the freeway U-turn route to get there.
"Nothing is getting done, all these new estates are opening up and it's still the same," she said.
"I'm wasting so much time and petrol. I call it 'the country' because I feel like we're in the middle of nowhere, even though we're not."
Matt Pearse, who has lived in Thornhill Park for four years, said he was given the impression that the proposed transport infrastructure would have been finished by now.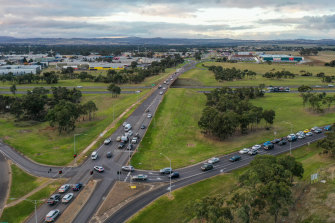 The Melton exit where Thornhill Park residents turn around the go back towards the city.Credit:Justin McManus
"It was never said 'oh this could take 10 years or 15 years', if we were told that at the start, we may have made a different decision," he said.
Wel.Co founder and managing director Andrew Welsh said Thornhill Park was one of the most in-demand suburbs within Victoria's growth corridors.
Former Essendon player Andrew Welsh, the founder and managing director of Wel.Co, at Thornhill Park in 2016 before it was built.Credit:Pat Scala
"We absolutely agree with those residents in the community and their frustrations that the lack of government-led infrastructure is simply not keeping up with the growth that the area is seeing," he said.
"As a developer we continue to pay tens of millions of dollars in contributions to government infrastructure items that are not delivered in the timeframe the community needs them."
As for other promised amenities, Welsh said that a new childcare centre had recently opened, with construction of a school under way. A town centre retail space was also in the early days of being built, he said.
City of Melton mayor Goran Kesic said council was advocating for an interchange at Thornhill Park as one of its priority road projects.
The "future interchange" at Mount Cottrell Road that has not been built. Credit:
"The current state of this intersection is a risk and burden to residents, with so many workers commuting outside the area for work," he said.
The state government was contacted for comment.
Loading
Whatever happens next, the residents of Thornhill Park are worried they will be waiting years before they can easily get in and out of their suburb.
"If it can't be done, please say it," said resident Vinod Gakhar.
"All these people are living in this hope it will get better in three or six months' time, but the reality is far from it."
The Morning Edition newsletter is our guide to the day's most important and interesting stories, analysis and insights. Sign up here.