It was pure happenstance that threw Baz Luhrmann and Alex Timbers together at the same dinner party in 2013. They talked theatre and film, and bonded over their mutual regard for the oeuvre of renowned British director Ken Russell.
Timbers directed and wrote Bloody Bloody Andrew Jackson, an emo music stage romp through the life of America's seventh president. Luhrmann was keen to adapt his iconic 2001 musical movie Moulin Rouge to the stage and emailed Timbers the next day.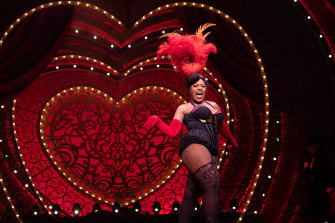 Moulin Rouge steps out at Capitol Theatre.Credit:Janie Barrett
"I was incredibly enthusiastic because, you know to me, Moulin Rouge is the holy grail of theatrical adaption in that music is so much part of its lifeblood, and it's so emotional in a deep and profound way and its world creation is just beautiful," Timbers says.
"All those things spoke to me as to why it could be an incredible stage show. At the same time, I was nervous and anxious because it's so inherently cinematic what Baz did and so how do you find those analogues for the theatre – it felt such a huge challenge."
Timbers was joined by screenwriter John Logan, whose writing credits include Skyfall and Alien: Covenant, and music arranger Justin Levine.
Alex Timbers: an emotional Sydney premiere. Credit:Janie Barrett
They stripped back the film's storyline to the central love triangle of Satine, the doomed Parisian chanteuse, Christian, the boy she loves, and the villainous Duke of Monroth, who stands in their way.
"We weren't looking to copy the movie. You can't beat that original film so what we are trying to do is deliver a story that feels electric and theatrical and deeply moving and funny for the stage," Timbers says.
"The movie itself is a collision of a bunch of wonderful stories. It's Romeo and Juliet, it's La Boheme, it's La Traviata and Orpheus and Euridyce.
"The story of Christian and Satine felt firmly etched by the movie, and we wanted to hold on to that. But as fans of the movie John Logan and I were interested in how do you also surprise people and go further with these characters you love."
Moulin Rouge! The Musical opened at the Al Hirschfeld Theatre in New York in 2018 and last year made history, becoming the first Australian production to win a Tony for best musical while sweeping nine other awards, including best director for Timbers.
Moulin Rouge! opens in Sydney on Saturday after a sell-out run in Melbourne truncated by pandemic-led shutdowns. A return Melbourne season has been announced for 2023.
Australian auditions for its 34 cast members were conducted by Timbers via video from his New York office not far from where Moulin Rouge! had been shuttered by the global pandemic for much of 2020 and 2021.
Alinta Chidzey as Satine and Des Flanagan as Christian were standout choices drawn from a strong depth of talent. Timbers has also collaborated with friend Eddie Perfect, who wrote the score for the Timbers-directed Broadway show Beetlejuice. It's clear, the director says, why Australia is an epicentre of musical theatre.
Luhrmann was a helpful guide throughout development of Moulin Rouge! The Musical, says Timbers, and understood translating his cinematic vision into the greasepaint of live theatre meant change.
The two leads of Moulin Rouge: Alinta Chidzey and Des Flanagan.Credit:Janie Barrett
"He called himself an uncle to the process and he would come in at certain points that were so helpful and key and remind us why he made certain choices in the film. Like why Christian is called Christian, that he's an innocent, and he would make this choice over this choice. He just knows his characters so well, far better than anyone else."
To create Luhrmann's luscious world of Belle Epoque Paris, the show opens and ends in club Moulin Rouge, Simon Burke playing the legendary club impresario Harold Zidler (portrayed by Jim Broadbent in the film version). Painter Toulouse-Lautrec is given more spotlight as the show-within-the-show director.
"Remember all the amazing camera movements and editing in the film which was so exciting and visceral? We wanted to do that on stage, and some of that is achieved with the incredible choreography and some of it with the lighting and some of it is with the storytelling to create that same energy," Timbers said.
Loading
Come What May, the film's duet sung by its leads Nicole Kidman and Ewan McGregor, was kept for the musical. The original pop medleys and mash-ups have been rearranged with 40 new chart-toppers from Adele, Katy Perry, Sia, Rihanna, Lorde and Beyonce. Tommy, Ken Russell's first venture into musicals, drew a young Timbers to the genre with its similar pop-culture siren call.
Moulin Rouge! The Musical is playing in London, on tour in North America and is headed to Germany and South Korea. Timbers has watched his creation from the stalls as many as 300 times but still found Sydney preview performances this week moving.
"It makes me emotional knowing what trials this cast and crew have gone through over the last two years to get to this glorious Sydney premiere."
A cultural guide to going out and loving your city. Sign up to our Culture Fix newsletter here.