Bernard Tomic has been given a slight discount on his fine for so-called tanking at Wimbledon.
But the Grand Slam Committee was scathing of Tomic's record, giving him a meagre 25 per cent cut on the 46,000 euros ($73,000), all of his prizemoney, that he was docked for his quick first-round loss in London. He also needs to play eight slam events in the next two years without a single code violation to get that money back.
'Unwell': Bernard Tomic's Wimbledon campaign took less than an hour to fizzle out in a straight-sets loss to Jo-Wilfried Tsonga.Credit:PA Wire
"A review of your historical record of misconduct at grand slams, never mind elsewhere, provides little justification for an adjustment," Bill Babcock of the board wrote in his judgment.
"In your case, Bernard, I am sure you would agree there is no historical evidence to give comfort to the theory that you can reform your behaviour."
I am sure you would agree there is no historical evidence to give comfort to the theory that you can reform your behaviour.

Grand Slam Committee's Bill Babcock to Bernard Tomic
Tomic was fined after a listless 6-2, 6-1, 6-4 loss to Jo-Wilfried Tsonga in the first round of Wimbledon this month.
Tomic said he planned to further challenge the ruling against him, and he pledged to donate any money recouped to a charity in Australia.
Loading
"I don't care about this 25 per cent; I care about the right thing for players in the future," Tomic said from Atlanta, where he will play in an ATP tournament next week.
Tomic took particular issue with Babcock's refrain that he was required to use "best efforts at all times," saying that conservation of energy and strategic tanking are part of the sport.
American Anna Tatishvili won an appeal from the board over a similar incident at the French Open.
After a 6-1, 6-0 loss to Maria Sakkari in the first round of the French in May, Tatishvili was fined all of her first-round prize money for failing to "perform to the required professional standard."
Soon after, Tatishvili, 29, filed a 40-page appeal to the Grand Slam Committee. After reviewing those documents and video of the match, Babcock told Tatishvili on Thursday that her prizemoney would be returned.
She had been out with persistent ankle injuries for 19 months ahead of the French Open, and in a letter explaining his decision, Babcock wrote that "there is no evidence that your movement was restricted or that you were not using your best efforts".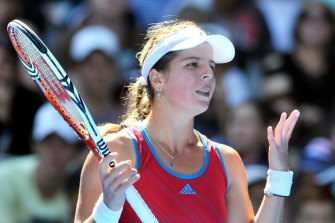 Anna Tatishvili won her appeal against a fine for her French Open loss a few months ago.Credit:Joe Armao
"Despite the score line," the letter continued, "it is clear that you – even confirmed by your in-form opponent – were competing professionally from the first to the very last point, however unsuccessful in the end."
Tatishvili said in a statement that she was happy that "justice has been served" and that the ruling "definitively confirmed that I played to the best of my ability".
Loading
"I love this sport, and after years battling injury, I'm excited to be back in competition and getting stronger every day," Tatishvili said.
The first-round performance rule, added for the 2018 season, was intended to prevent injured players from appearing in grand slam events simply to claim prize money. It was prompted by a rash of players' retiring midway through first-round matches at majors because of existing injuries.
New York Times
Loading